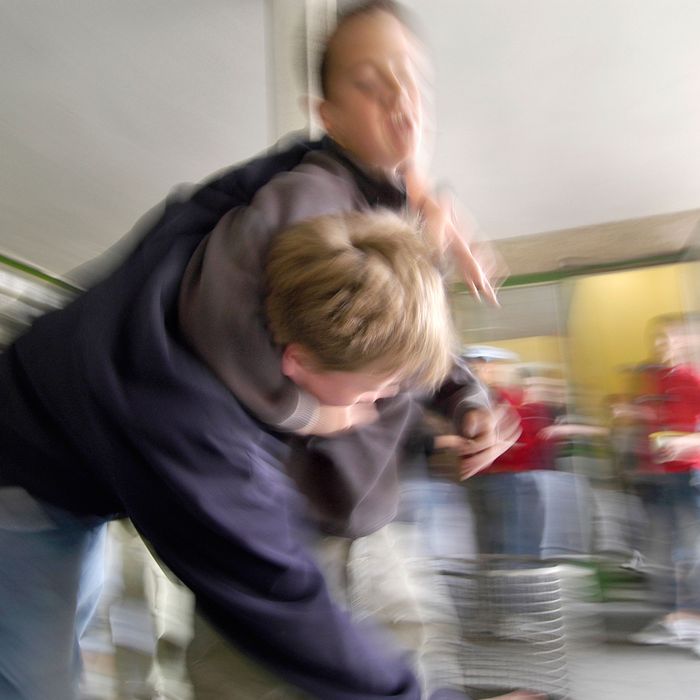 Photo: Norbert Michalke/F1online/Getty Images/F1online
While the media often make it sound like violence is random, isolated, and intractable, researchers continue to find that violence is social — it moves along networks of people, not unlike disease, or, for that matter, gaining weight or quitting smoking.
The latest data comes from Ohio State University communications scholars Robert Bond and Brad Bushman. In a study out this week in the American Journal of Public Health, they find that, among middle and high schoolers, having a friend commit a violent act dramatically increased the likelihood that you would, too.
As in: If your friend had done the same, then you were 48 percent more likely to get into a serious fight, 183 percent more likely to hurt someone badly enough that they needed medical attention, and 140 percent more likely to pull a weapon on someone. Also, having a sibling who'd seriously hurt someone led to a 78 percent increase in doing the same.
The researchers drew on data from a national survey of adolescents that conducted interviews with almost 6,000 youths in 142 middle and high schools between 1994 and 1996.
The study further supports the notion that violence is more an epidemic than a "monster." A 2015 study of gunfire in Chicago lead-authored by Yale sociologist Andrew Papachristos found that 70 percent of nonfatal gunshot injuries — an index of participation in violence — happened in a network of people equivalent to less than 6 percent of the city's total population. His 2013 study of gang homicides in Boston and Chicago found that violence is often socially symbolic: an act of personal retribution, collective memory, or status seeking.
This also supplies clues for transformation: "Changing networks means changing communities," he told Science of Us. "You can't arrest your way out." Instead, he says, you need a public-health push. Take weight, for instance: Thanks to a coalition starting with Michelle Obama, Americans are eating way better than before and, in a promising sign, babies are getting slimmer. The same thing could happen with violence, too.