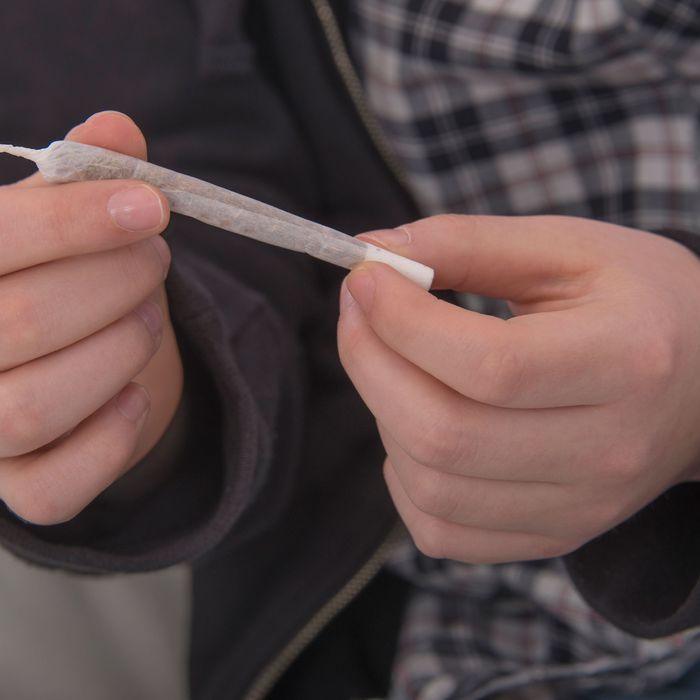 Photo: LEA PATERSON/SCIENCE PHOTO LIBRA/Getty Images/Science Photo Libra
Teenagers are using less drugs, alcohol, and tobacco than they have in recent years, but high-school seniors are still smoking the same amount of pot. Meaning that overall, more teens ages 13 to 18 smoke marijuana than standard cigarettes or e-cigs.

This is according to a new, nationally representative survey of substance use among 8th, 10th, and 12th-graders called Monitoring the Future. For the annual survey, researchers at the University of Michigan polled more than 45,000 students in public and private schools across the country.
They found that cigarette smoking was at the lowest levels recorded since the study began 42 years ago. Only 2.6 percent of eighth-graders, 4.9 percent of sophomores, and 10.5 percent of seniors said they'd smoked cigs in the last month. Vaping in the past 30 days also fell among all age groups (rates were 6, 11, and 13 percent, respectively), marking the first time researchers have seen a decline in this area.

When it comes to marijuana, use among 8th and 10th-graders in the past month declined (with rates of 5.4 percent and 14 percent) but stayed relatively steady in 12th-graders at 22.5 percent — more than twice the rate of seniors who smoked cigarettes in the last month.

As Nora Volkow, M.D., director of the National Institute on Drug Abuse, told STAT news: "If you ask [teens] if they smoke, they think you mean marijuana." (NIDA funds the study.)

It appears high schoolers are just preparing for college.