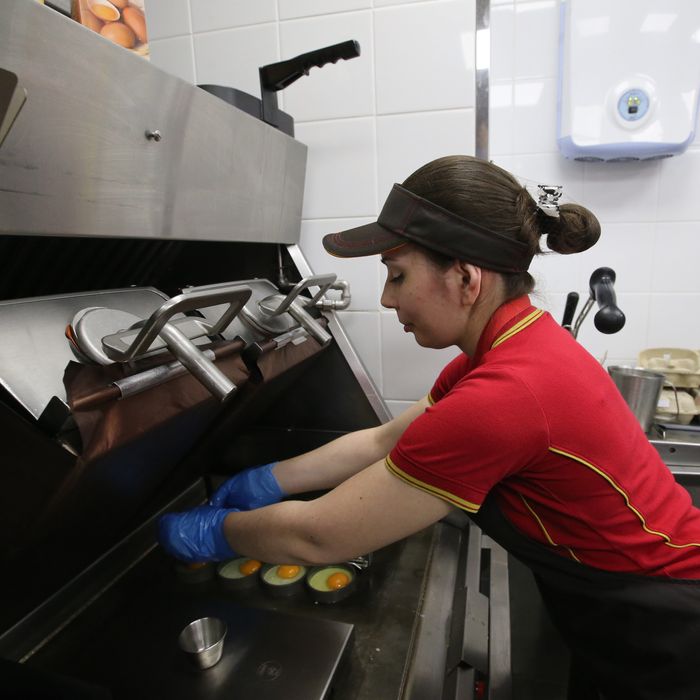 And one-third of low-wage women workers are mothers.
Photo: Peter Kovalev/Getty Images
The gender wage gap hasn't closed significantly since 2007, and a new report from Oxfam America and the Institute for Women's Policy Research highlights one of the reasons why. According to the report, of the 23.5 million people working low-wage jobs in the United States, 19 million are women. What's more, demand for low-wage workers is expected to increase as time goes on, meaning more and more women — a disproportionate number of whom are immigrants and women of color — will be called to fill those roles. As long as women are pushed into low-wage jobs, the gender gap is unlikely to budge.
The report analyzed data from the U.S. Census Bureau and projections from the U.S. Bureau of Labor Statistics from 2014 to 2024. It examined "low-wage women's jobs," which were defined as jobs in which the pay is less than $15 an hour, at least 100,000 women do the job, and the majority of workers are female. Researchers examined seven sectors: office and administrative assistance, health-care support, retail, food preparation and serving, early childhood care and education, beauty and personal services, and cleaning and housekeeping. All seven of these sectors stem from the traditional idea of "women's work."
Of the women represented in these fields, one-third were mothers, and 15 percent were single mothers. According to The Christian Science Monitor, "barriers such as language, education, lack of child care options, and documentation prevented job advancement and frequently led to labor abuse."
The report noted that, unless significant policy changes are made, the number of low-wage women's jobs will increase at one and a half times the rate of all other jobs. By 2024, one in six of all jobs will be in low-wage women's work. Researchers called on lawmakers to enact and enforce a $15 minimum wage, monitor employers to prevent wage theft, strengthen equal-pay laws, and implement family and sick leave policies across the board. Otherwise, "even more women will be faced with the need to take jobs that undervalue their education and skills, undercompensate their contributions, and exact heavy physical and emotional costs."