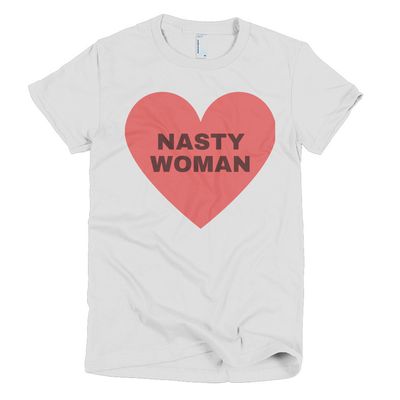 That's a lot of Nasty Woman t-shirts.
Photo: googleghost.com
When Donald Trump referred to Hillary Clinton as a "nasty woman" during the third presidential debate, he unwittingly started a movement. People tweeted, politicians and TV hosts picked up on the phrase, and, of course, there was merch. Within hours of the debate's conclusion, a "Nasty Woman" t-shirt was for sale online, with 50 percent of the proceeds going to Planned Parenthood. And it doesn't seem like the election results have dampened anyone's Nasty Woman spirit.
According to an email from Amanda, a.k.a. Google Ghost, the shirt's creator, so far sales have raised $100,165 for Planned Parenthood, which, thanks to Trump's administration, is in imminent danger of losing its federal funding. "I didn't think I'd sell very many, maybe four or five," she wrote in the email. "But then five turned into 500, and that turned into thousands, almost overnight. What better way to say 'fuck Trump,' right?!?!" Congrats, Nasty Women — you're almost on Mike Pence's level.