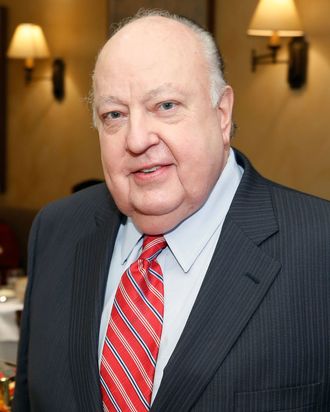 Roger Ailes.
Photo: John Lamparski/WireImage
Fox News CEO Roger Ailes resigned in July following several sexual-harassment allegations — from Gretchen Carlson, among others — and a subsequent internal investigation. Now, nearly six months later, a new lawsuit against Fox News filed Tuesday includes even more allegations of sexual harassment by Ailes.
The lawsuit, filed by Fox 5 reporter Lidia Curanaj (whose legal name is Lidija Ujkic), alleges that during an interview, Ailes asked her to stand up and turn around because he wanted to "see [her] from behind." (Similar behavior was described in Carlson's suit.)

Per the New York Times:
Mr. Ailes had met Ms. Curanaj at a dinner in February 2011 that she attended with Gregory R. Ball, a New York state senator whom Ms. Curanaj had dated. Mr. Ailes brought her into the network for the interview about three months later.

After his private meeting with Ms. Curanaj, Mr. Ailes contacted Mr. Ball and asked him, "How's the sex?" and whether she "put out" sexually, according to the suit. Mr. Ball described Ms. Curanaj as a "very nice girl," signaling that she would not provide sexual favors to Mr. Ailes.

She was then contacted by Ailes and told she would not be hired. The suit claims she did not "receive the position at F.N.C. because Ailes determined that she would not submit to him sexually."
Later that year, she started working at Fox 5. In addition to the allegations against Ailes, her lawsuit says that she was subject to discrimination on the job, as well as a cut in hours when she became pregnant.