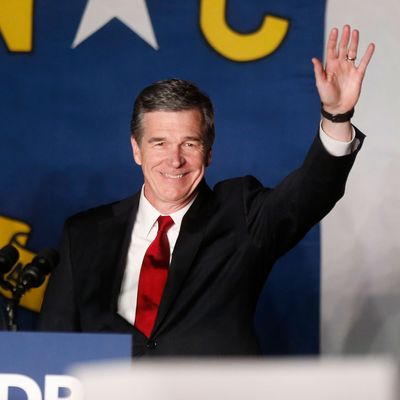 North Carolina's governor-elect, Roy Cooper.
Photo: Ethan Hyman/TNS via Getty Images
North Carolina governor-elect Roy Cooper announced Monday that the state's legislature would meet in a special session to repeal its notorious anti-LGBTQ bathroom law. The news came in response to the Charlotte City Council's vote to repeal its own local nondiscrimination ordinance, which Republicans cited as the reason HB2 was enacted in the first place.
"Senate Leader Phil Berger and House Speaker Tim Moore assured me that as a result of Charlotte's vote, a special session will be called for Tuesday to repeal HB2 in full," Cooper said in a statement to the Associated Press.
Meanwhile current North Carolina governor Pat McCrory, who lost his reelection bid to Cooper earlier this month, issued a statement saying the special session would take place, but blaming Democrats for using the issue to damage his popularity. "This sudden reversal with little notice after the gubernatorial election sadly proves this entire issue originated by the political left was all about politics and winning the governor's race," he wrote.
While in office McCrory staunchly defended the bill, which required people to use the public bathroom that corresponded with the gender on their birth certificate. But businesses, entertainers, and sports organizations boycotted the state, leading to hundreds of millions of dollars in lost revenue.
In a statement after its vote, the Charlotte City Council said it's still committed to protecting its citizens from discrimination, but that it was willing to strike a bargain with the state government to "restore our collective reputation."