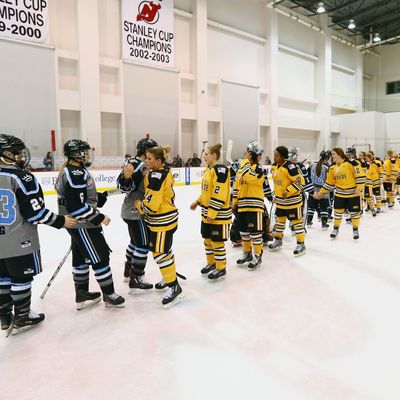 Photo: Andy Marlin/NHLI via Getty Images
In the midst of facing backlash for slashing players' salaries, the National Women's Hockey League announced on Tuesday that it is adopting a new policy around the rights and protection of transgender players.
In October, the NWHL became the only professional sports league in North America with an openly transgender player when Harrison Browne, a forward for the Buffalo Beauts, came out as a transgender man in an article on ESPN.com. During the league's first season, Browne played as Hailey Browne. After he came out, Dani Rylan, the NWHL's commissioner, "oversaw the changing of Browne's player profile name and pronouns on the N.W.H.L. website," the New York Times reports. Now the league is enshrining an official policy on the participation of transgender athletes.
The policy emphasizes that the NWHL "recognizes all forms of gender expression," and "therefore supports athletes choosing to express their gender beyond the binary of female and male." There are now guidelines in the NWHL that indicate which players are eligible to participate, the first being "people designated female at birth, regardless of their gender identity." In addition, a person transitioning from male to female is eligible to play in the league if she has declared that her gender identity is female, a declaration that "cannot be changed, for sporting purposes, for a minimum of four years."
The league has also adopted guidelines barring testosterone hormone therapy in transgender men, and transgender women athletes will be required to demonstrate testosterone levels equal to those of cis-female athletes.
The policy was developed with help from Chris Mosier, vice-president of program development and community relations for You Can Play, an organization dedicated to combating gender- and sexual-identity discrimination in sports. Mosier is an Olympic athlete and transgender man who helped change the International Olympic Committee's gender policy earlier this year. The National Center for Lesbian Rights also helped consult on the NWHL's new policy.
Commissioner Rylan told the New York Times, "It's a unique opportunity to continue to move the conversation forward and accelerate that social progress and to be that benchmark, and to remain approachable and available for these discussions."