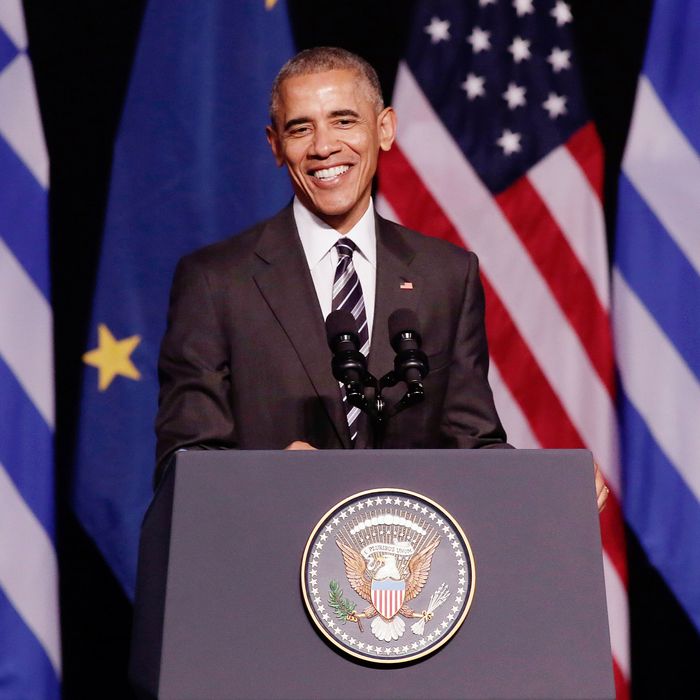 President Obama.
Photo: Milos Bicanski/Getty Images
Today, the Obama administration finalized a rule that would ban states from withholding Title X federal family-planning money from health clinics including Planned Parenthood that provide abortions. The measure will take effect on January 18, two days before the inauguration of President-elect Donald Trump, who said in February that he'd defund Planned Parenthood despite the fact that it helps millions of women.

The Title X program ensures that people with low incomes or without health insurance can access birth control, Pap smears, breast exams, STD tests, and basic infertility services. The program serves more than 4 million people annually and about 1.5 million of those patients get their care at Planned Parenthood. When anti-choice legislators talk about "defunding" Planned Parenthood, they're referring in part to Title X grants (the other part is Medicaid, but people with Medicaid have the right to choose their own provider). It bears repeating that thanks to the Hyde Amendment, federal funds can't be used to provide abortions except in cases of rape, incest, or to save a woman's life.
Grants go directly to states and nongovernmental organizations, which then divvy up the money. The Obama administration proposed this rule in September and it says that legislators cannot exclude a provider as a potential recipient for reasons "other than its ability to provide Title X services." Karen Scott, M.D., chief medical officer at the Department of Health and Human Services, said in a statement that the rule received "overwhelming support" during the 30-day comment period.
Still, the rule will likely face opposition in the next administration, which includes anti-choice lawmakers like Mike Pence and Tom Price. Lawyers from the HHS told the New York Times that undoing this rule would require either a new rule-making process*, or a joint resolution of disapproval by the House and Senate, approved by the president. Or conservatives could try to defund Planned Parenthood specifically through the budget-reconciliation process, as they did in 2015 before President Obama vetoed the bill. Either way, reproductive-rights advocates are likely to challenge such efforts in court.

*This post has been updated to include an additional way that a future administration could change the new rule.