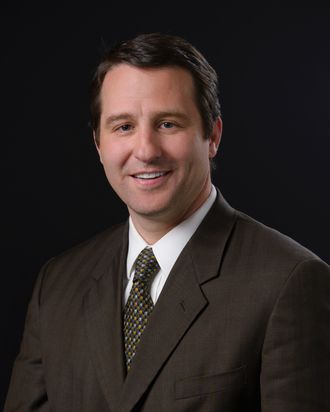 Senator Kris Jordan.
Photo: The Ohio Senate, The State of Ohio
On Tuesday, Ohio passed a bill that, if signed by Governor John Kasich, will be one of the strictest pieces of anti-choice legislation in the country. It would ban abortions upon the detection of a fetal heartbeat, which typically occurs around six weeks into pregnancy, a time when many women don't yet know they're pregnant. On Wednesday, it surfaced that the Republican who first introduced the "Heartbeat Bill," Senator Kris Jordan, has history of being accused of domestic violence.

The Columbus Dispatch reported that officers were called to Jordan's house on July 11, 2011, by his wife Melissa, who had said that he was "pushing her around and throwing things." Jordan said they had argued over the house's cleanliness and that "I threw some things on the ground, but I didn't hit her or anything. So she's all worked up about who knows."

Jordan was also recorded telling a deputy, "She got a little upset. Girls do that."
Per the Dispatch, Melissa Jordan "was recorded as saying violent incidents with her husband began about two years ago, sometimes after he had been drinking." She added that Jordan kept ten to 15 unloaded guns in the house.

Melissa Jordan also told officers, "This is not new. He's done this numerous times, and I just got sick of it and I just had to call."
The dispute ended with Mrs. Jordan asking prosecutors not to press charges.