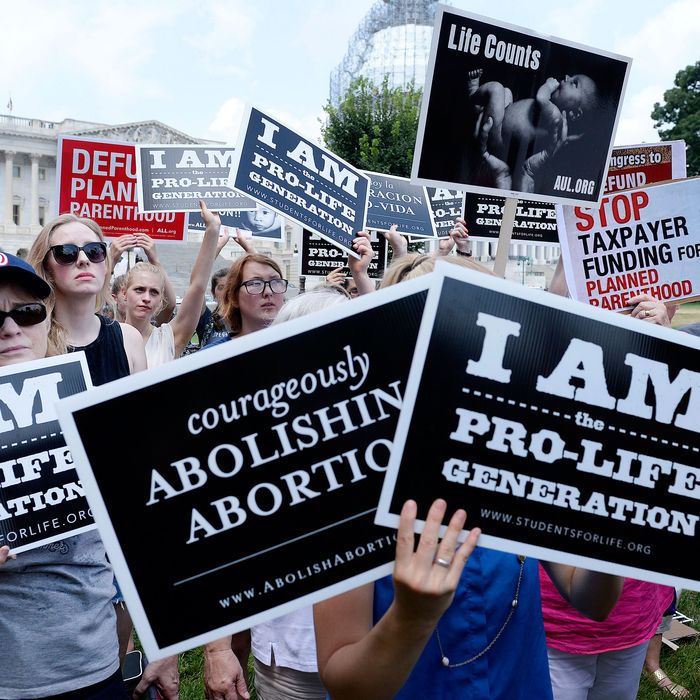 Anti-abortion activists hold a rally opposing federal funding for Planned Parenthood in front of the U.S. Capitol on July 28, 2015, in Washington, D.C.
Photo: Olivier Douliery/Getty Images
One of the nation's strictest anti-abortion bills might soon become law in Ohio after the state's Republican-controlled House approved the so-called "heartbeat bill" mere hours after it passed in the Senate on Tuesday. The bill ranks among the nation's most stringent restrictions on abortion by prohibiting them altogether after the first detection of a fetal heartbeat. Fetal heartbeats typically occur six weeks into a pregnancy, often far earlier than most women confirm they're pregnant.
Ohio governor John Kasich has not indicated whether he will sign the measure, according to the Associated Press. Though Kasich is pro-life, he's also shared his reservations about outlawing abortions so early in a pregnancy, given that such a measure would likely be found unconstitutional. Similar laws in Arkansas and North Dakota have failed when challenged in the Eighth Circuit Court of Appeals. The U.S. Supreme Court also effectively affirmed the lower court's decision by declining to hear an appeal. In fact, even the state's largest anti-abortion organization, Ohio Right to Life, does not support the current legislation because it will likely be struck down by the courts, according to cleveland.com. The "heartbeat bill" also twice failed to pass through both Houses of the state legislature (the House approved it for the third time on Tuesday). The current version of the bill managed to move forward this week after lawmakers tagged it on a bill amending child-welfare laws, according to Mother Jones.
The 1973 Roe v. Wade decision by the Supreme Court established a nationwide right to an abortion, but allowed states to restrict abortions once a fetus has a reasonable chance of surviving outside the womb. The court didn't offer a legal definition of viability, instead only stating that it could range between 24 and 28 weeks of pregnancy. Given all of the likely legal challenges the bill will face if signed into law, it's worth noting the reasoning behind the renewed interest. Donald Trump's election has apparently motivated pro-life activists in the state to pursue the legislation, in the hopes of a future Supreme Court that will further restrict abortion. "I think we have a brand-new day here in America and we're going to see a brand-new Supreme Court with pro-life justices," Janet Porter, of Faith2Action, told NBC's local Ohio affiliate. "By the time this law gets to the Supreme Court, I'm confident it will be upheld."