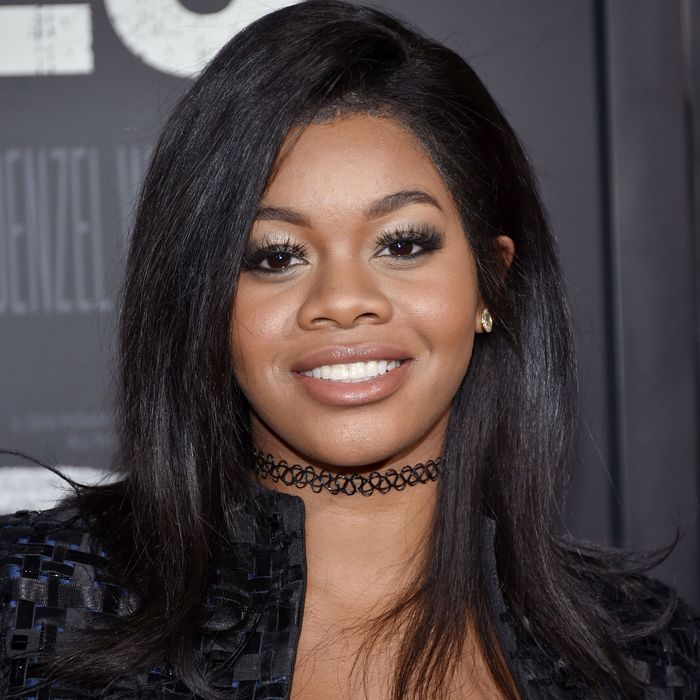 Gabby Douglas.
Photo: Mike Coppola/Getty Images
While Gabby Douglas was off in Rio de Janeiro winning yet another Olympic gold medal for the U.S., she was also dealing with intense cyberbullying. On Wednesday, the gymnast opened up about the experience with Teen Vogue, saying she refuses to let the trolls get her down anymore.
During the Olympics, Douglas was attacked online for just about every aspect of her appearance, and was also accused of being unpatriotic after she didn't put her hand over her heart during the national anthem. In a Facebook live video, Douglas told Teen Vogue editor-in-chief Elaine Welteroth that she learned of the cyberbullying after Googling herself, and that the negativity really got her down.
"I had take off social media before the Olympics. Then after team finals in Rio, I Googled myself and there was just so much noise. First it started with me not having my hand over my heart, then my hair, then me not being supportive. I was like oh my God, I have no idea where this is coming from. It was hard. It was very hard. People thought I was just a target. I'm not a target, I'm a human being. I'm an athlete."
Douglas revealed that, because of the cyberbullying, she'd return to the Olympic village every day after practice crying. In her eyes, the devastation of the negativity also diminished her achievements — suddenly, the feat of winning another gold medal was overshadowed by her trolling.
But eventually, Douglas decided to stop letting the trolls have such an effect on her life. The gymnast told Welteroth that she started standing up for herself and speaking out about the incident to remind others experiencing cyberbullying that they're still worthwhile people who deserve love.
"People need to stand up for themselves," Douglas said. "Sure, you walk in love and you don't repay evil with evil. But at the same time I say stand up for yourself. Because this is a big issue and it's not right for people to do this to other human beings. You need to be held accountable."