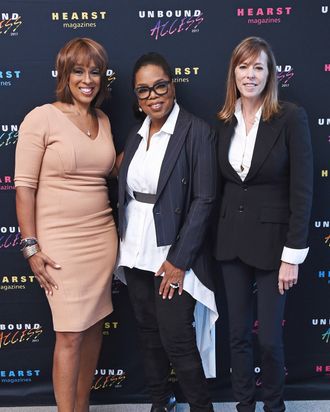 Gayle King and Oprah Winfrey.
Photo: Ilya S. Savenok/Getty Images for Hearst
One should aspire to have a friendship like Oprah Winfrey and Gayle King's: a friendship that lasts for years, a friendship in which you talk to each other every day, and a friendship in which you feel comfortable texting your friend's assistant to tell them you think they look bad on live TV.
Over a year ago, we brought you news that Gayle gravely disappointed Oprah by wearing red lipstick on CBS This Morning, something Oprah called her about after the segment completed. And now, with a heavy heart, we must report that Gayle has let Oprah down once again.
In an Instagram posted on Tuesday, Gayle shared that Oprah had texted her assistant about her large necklace, writing "plz tell Gayle I'm on treadmill & it's hard to focus w/the circus around your neck." 
She also asked for our thoughts, but we will not be taking sides. This is between Oprah and Gayle.