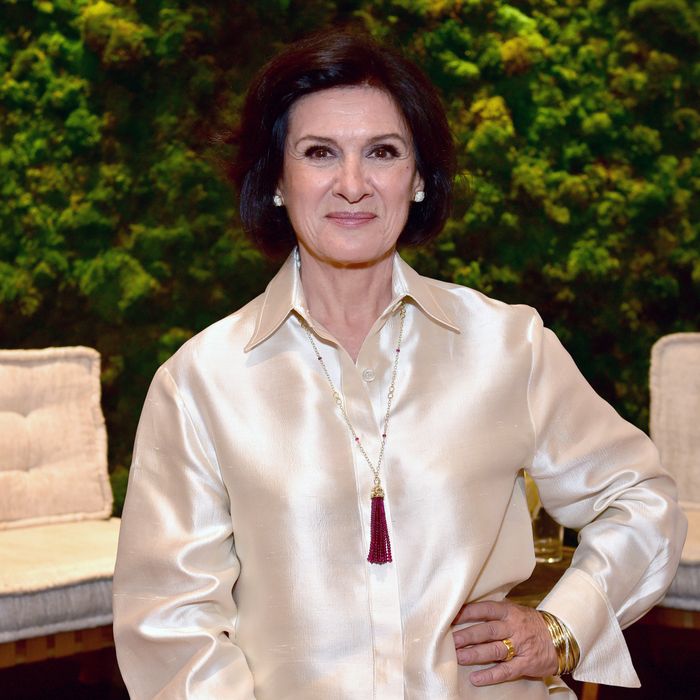 Paloma Picasso.
Photo: Sean Zanni/Patrick McMullan via Getty Images
When I arrive at the loopily opulent Faena hotel in Miami during Art Basel to have tea with the relentlessly chic Paloma Picasso, she and her husband, the equally elegant physician Eric Thévenet, were overhydrated, she explains, already, on coconut water. After he departs, bespoke even on a sunny beach day, she insisted I order one, which was served in an actual coconut with two candy-striped straws, like we were at some Caribbean theme restaurant and not this grandly stylish resort redoubt of the global rich. Paloma, who is dressed in a joyful vintage Emilio Pucci shirt accented with a gorgeous, bulbous matching ring, is here as an art aristocrat, but a working one: 2016 also marks her 35th year designing jewelry for Tiffany & Company (she designed that ring she's wearing). Early on in her life, Yves Saint Laurent encouraged her in this work after seeing the necklaces she'd been making at first from beads she bought at flea markets (Picasso is the sort of person who had that sort of career mentors). She recently launched a line called Groove, based on the wedding rings she designed for herself and Thévenet after he told her he hated jewelry. Her mother is painter and writer Françoise Gilot, who is known as the only woman who ever left Pablo Picasso (Gilot's second husband was Jonas Salk; Paloma's brother is Claude Picasso, who ultimately oversaw their father's estate).
After Gilot, Pablo married Jacqueline Roque, who, feeling threatened, cut off contact with them in 1964. Paloma was 14. The last time Paloma saw her father was when she ran into him by chance at Cannes in 1967, six years before his death. After she graduated from school, her mother let her move alone to Venice, under the not terribly strict eye of her friend the eccentric collector Peggy Guggenheim. Paloma's first husband was playwright Rafael Lopez-Cambil, with whom she lived a jet-set Warhol-era life (they once planned to make a film about Coco Chanel; she also dabbled in acting).
In the end, of course, Paloma, 67, has become a designer and fashion icon herself. Even the 1980s advertisements for her perfume became iconic. To this day, she is so strongly associated with the color red that she's said that when she wants to be a bit incognito, she goes out without her red lipstick on. She wasn't wearing it when we met. But no matter: Faena, which was the smoothest-running fabulousness machine during Art Basel week, home to an intimate Madonna Malawi fundraising concert among many other invite-only things, doesn't stint on the red in its décor, from the awning we were sitting under, to the soaps in her bathroom.
You had a party earlier this week sponsored by Interview. Is anybody there you remember from your days hanging out with Andy Warhol?
Oh, yes, there was somebody who used to work at the Factory way back, Vincent Fremont who I'd not seen in maybe a minimum of 25 years. It was like, "Ahhh!" And so that was fun.
Do you come here every year?
No. I think it's interesting to keep seeing what's happening in the world, but we don't want to go to every fair. We go to the Biennale in Venice. Every year, we kind of choose one somewhere in the world. So it doesn't become annoying. We sometimes go to the Art Basel fair in Basel itself.
Oh yeah, the serious Basel fair.
Right? And then, and then I must admit they have been inviting us to Basel Fair Miami. It took us 11 years to get here, but we got here.
What did you think of the fair?
I've talked to some friends of mine who own galleries and they were a bit nervous before this opened and apparently it's been doing very well. I'm sure it's maybe not for everybody, but I mean people with good works …
What do you think of the hotel?
I like the fact they have red soaps. You know that's my color. At the time when I was doing my fragrance and all that, I tried to get red soap, but no. I mean, that's also maybe 20, 30 years ago, but making red soap that smells good and is right, that's not so easy to do. Thank god the chemicals keep getting better. But anyway, I thought, Oh, that's a nice surprise.
I noticed that you and your husband were both wearing the Groove rings that inspired this year's collection. You designed them when you were married in 1999? Why make them for the rest of us now?
Through the years, so many people have come to us and said, "Oh, your ring is so special." So we decided, okay, we'll share. What really astonished me, that it really, you know I thought, well, we can make rings. And then we tried to make them as bracelets and [the design] works really nicely as a bracelet.
What was the inspiration for it originally?
Originally, my husband said, "We're getting married. I know you will expect me to wear my wedding band, but I really don't like jewelry and I don't think that my hand is suited for wearing a ring." So he said, "If you don't mind, I won't wear one." And I said, "Well, I mind, but maybe I can try to design one that you like enough to wear." And so I did.
What was your thinking?
I thought, I have to make something that's strong and looks quite manly and is rather heavy and has eight grooves. So the number eight, as you know, it's infinity. So that's good for a relationship. And then the other thing was, which I didn't plan but then I discovered — [she places the ring on the table, upright on one of its concave dents, like a bolt awaiting its nut] that it stands up. So, for a long-standing relationship …
Yours almost looks like something prehistoric, like you'd see it in a museum case somewhere.
You know why? Because we had ours made in 22 karats. So it's softer. That's why it looks ancient, because it's lived its life and it shows. You have to do rather heavy jewelry because otherwise it'll break, it's too soft.
Is your necklace from your Marrakesh collection?
Yes.
It has two halves. Does it open, like a locket?
No, actually, there's an onyx inside of it. And it's hammered. I've also done quite a bit of hammered gold jewelry, which I think also gives that feeling of ancientness. And, it's left less metallic; when you beat the gold, it doesn't look as shiny, but it's shiny in a different way. So during the daytime, it's less shiny. But at night it sparkles.
Do you prefer the old hand-worked ways?
I have done some machine-made products. When they were so intricate that the one way to do it is actually with 3-D printing. I did a bracelet in the Marrakesh collection. The motif was on the outside and then the same motif was inside. So because the circumference on the inside is smaller than the outside, you have to kind of crush the design in a way. And then you had the same design again on the side. And on the side, it was like, wide at the top and shrunken on the sides. So: very complicated. It's done in one piece through 3-D-printing wax and then it's made through the lost-wax process.
What inspired that collection?
We have a house in Marrakesh. So we do spend a lot of time there. It's not a very old house; it is from 1980. We were redoing the house and we had a central courtyard and there was an ugly fountain in it so I decided to design a new one. I wanted to use elements that are typically Moroccan, so I chose a mosaic design that was traditionally Moroccan. And once it was finished and done, [I thought] Oh, that looks really great. And then, after a while my husband said, "You know, you're so happy with this design, why don't you translate it into a piece of jewelry?" And I thought, that's clever.
Your home is outside of the old city?
Yes. We wanted to enjoy the nature and so we have our own orange trees, lemons, grapefruits, pomegranates, dates, and olives.
Coconuts?
No, we don't have coconuts. But we have olive trees. We do our own olive oil. We have a tennis court but we don't play tennis so once in a while, we have these English friends who come and visit us and play tennis. And the play court was starting to disintegrate a bit and so we thought, Well, maybe we should redo it at the same time, we said we don't play so … Then we called our English friend and said, "Are you planning to come and visit us?" And they said, "No, actually, we can't. We're doing this and that." We said, "Okay. So you can say good-bye to the tennis court." We decided to make holes into the play court. You know, play courts are red so we made holes and you have to dig quite deep because there's a whole preparation to do a play court, with some gravel and some sand and more gravel of different size and different this and that. So anyway, you have to dig quite deep and then you put good earth on it, and then we plant the tomatoes and eggplant and potatoes and fava beans and onion and so forth. And it looks so beautiful because the earth is red and then you've got all those greens.
It sounds like your husband is useful in helping you focus your ideas.
Oh, very useful. We really work as a team on all fronts. He's the driving force behind me. Much more organized mind than I have.
Well, you want that in a doctor also.
Right. Exactly. He's a much better businessman, too.
So tell me about your Venice collection.
Actually, my husband asked me, "If you were going to design a collection based on a city, what city would choose?" and knew exactly what I was going to answer. Because in my life, Venice was really a very important place. I started going there when I was 16. My mother took me and I was fascinated and the year after I passed my exams and my mother said, "Well, I am very proud and happy you did so now you can ask me anything you want, I give it to you." So I said I want to go back on my own to Venice. She said, "Okay, fine, who do you want to stay with? Do you want to stay with these or these or these different friends?" I said, "No, no, no, I want to stay in a hotel." And so, she said, "Okay." I mean, she's that kind of mother. Some mothers would say, "Well, no, I didn't mean it." [Laughs.]
How old were you?
Just 17 or so. I went to stay in this beautiful palazzo, which in the meantime has become a five-star hotel but at the time, it was just a pensione. I had a luxurious room but you know, there were no services basically. A beautiful view, near San Marco. I mean, amazing. So then, I spent some time there and then actually, I met some other friends and then I moved to another hotel and after that, for at least 20, 25 years, every summer I would come back and spend at least a month or month and a half in Venice. And that was really where I feel like I kind of became myself. First of all, I was on my own. I had to, of course, I knew some friends of my mother, like Peggy Guggenheim obviously and some other people. I became my own person in Venice, in a way. Away from the rest of the family, on my own.
I'm a bit obsessed with Peggy Guggenheim; my friend had his birthday at her palazzo a couple of years back, it was amazing; I can't imagine what it must've been like to know her. What's something we should know about her?
You know that she had her own gondolier. She was the last person in Venice to have her own gondola or gondolier. So, you know, we might go there, and okay, we'll visit this church and then we'll go with another gondola and all of her dogs. You've seen her marvelous collection?
She knew everyone. It speaks to a different world; a different, more rarefied art world, not like this one with its convention halls full of art.
Very much so.
So how did your jewelry collection reflect Venice?
There were actually three tiers. In one, I concentrated on the light in Venice, which is so unique, and the water and the fact that nothing is stable: You're on a boat, or even when you're walking at night, I mean that's one of the things I love the most in Venice when you're walking at night through the city and you hear your footsteps resonating because actually most of the time you're walking on canals that have been covered over. Because it was very impractical, once not everybody had their own gondolas
Except Peggy …
You had to be able to walk from one place to the other, so except for a few roads that were always roads inside the city, most of the other places were actually canals that were eventually covered. Which is why you get those extraordinary feelings of sound in Venice. No cars, you know? So there was one tier centered on movement and lights and I centered another one on San Marco, you could say, because it had the arcades, the arcades of San Marco Piazza, and then also you have the Orologio, or the sky in many of the churches is blue, really blue, with gold stars. That was another direction. Then there was a third tier, which was about all the ironwork. And so, yeah. It was a big collection. And it really did very well.

This interview has been edited and condensed.