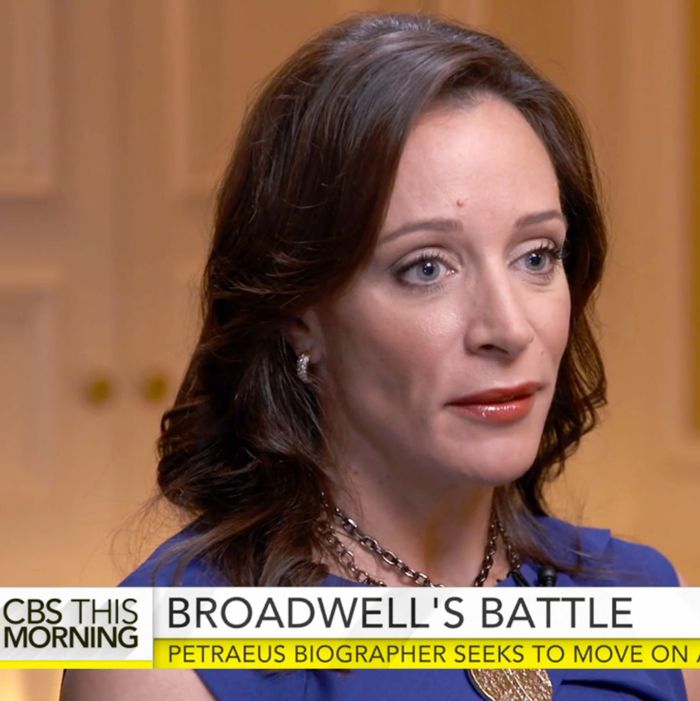 Paula Broadwell.
Photo: Courtesy of CBS
Paula Broadwell became a household name after news broke in 2012 that she was having an affair with former CIA director General David Petraeus. In a new interview with CBS This Morning, the U.S. Army reservist opened up about the sexist double standard that allows Petraeus to move on unscathed, while she continues to struggle to rebuild her life.
Petraeus is now reportedly up for a top position in Donald Trump's cabinet — secretary of State — even though he was found to have mishandled classified information, as Broadwell wrote his biography, All In. The former CIA head pleaded guilty in federal court last year to removing and retaining classified documents without authorization, was fined $100,000, and is still on probation, according to CBS. While Broadwell was never charged, she said she is still trying to move on with her career:
"I've been strongly advised to not talk to the press, and I understand that. Sometimes it's better to remain silent. I've had that philosophy for the last five years. But … I've reached a point where I feel like, 'You know what? I need to fight back for my life.'"
Broadwell served in the U.S. military for 21 years, spent 13 years in the Army Reserves, and has degrees from University of Denver, Harvard, and West Point. But after news of her affair broke, she found herself demoted from lieutenant colonel to major, in addition to receiving a formal reprimand and losing her top-secret security clearance. She told CBS This Morning that she's waiting on her resignation paperwork to be approved, and she's been denied private positions she's qualified for, including at a bank.
But despite the hardships, Broadwell said she remains "hopeful." Her life isn't moving forward on the path she had planned for, but she's wiser and more humble — though still eager to get back out in the workforce. "I also believe, on principle, I've got something to offer the world and I'm not a benchwarmer. That's not my personality. Put me in, coach," she said.