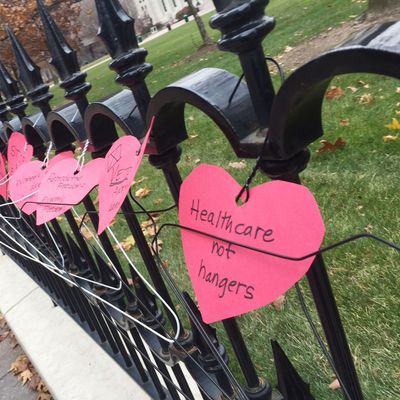 Hangers on the Ohio Statehouse fence.
Photo: wsyx6/Twitter
Last week, the Ohio House approved a measure that would ban abortions at six weeks, when fetal cardiac activity can first be detected. Now, some pro-choice residents are protesting the bill with coat-hanger signs on the Statehouse fence.
Organizer Andrew Miller wrote on Facebook: "Let's remind Gov. Kasich of what abortion 'services' look like when we make abortion illegal." Messages written on paper hearts on the metal hangers included "Stop the Bans," "Healthcare not Hangers," and "We Won't Go Back." Unsurprisingly, hangers placed on Saturday were taken down, but protesters brought more in advance of a march in front of the Statehouse yesterday; there will be another protest tonight. Some are choosing to send wire hangers directly to the governor.

Governor John Kasich has until this Saturday, December 17, to sign or veto the measure, which has become known as the "heartbeat bill," even though that's not medically accurate. As gynecologist Jen Gunter, M.D., explained on her blog, it's really "fetal pole cardiac activity," not the beating of a fully formed heart inside of a fetus. At six weeks the embryo is still developing, and women usually don't have their first prenatal visit until about eight weeks after their last period because the risk of miscarriage is so high.
Any restrictions on abortion before fetal viability (24 weeks) are unconstitutional per Roe v. Wade, but that hasn't stopped states like Arkansas and North Dakota from trying to impose six-week bans, though those have been struck down. Ohio's six-week ban is tacked on to other legislation but lawmakers there are also considering a separate 20-week ban, which, while still illegal, is more likely to become law.