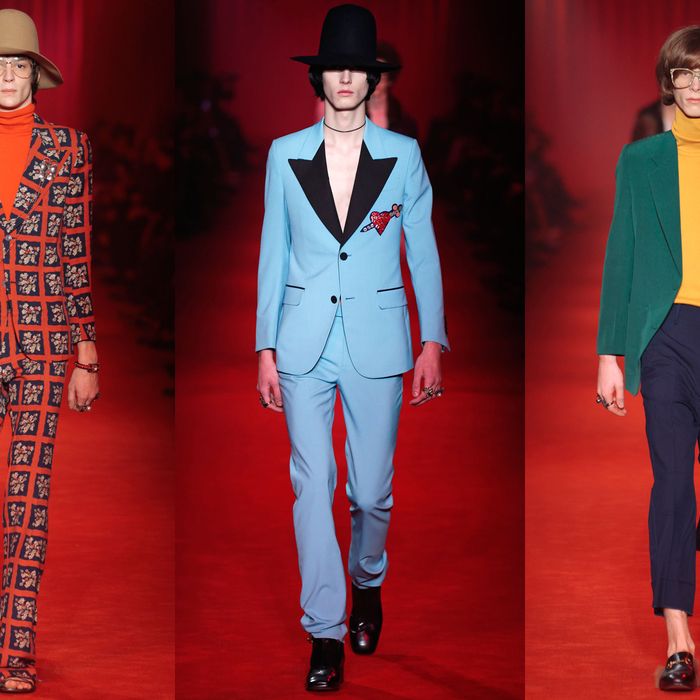 Men's fashion is suddenly fun.
Photo: Courtesy of Gucci
In the waning days of his administration, George W. Bush sent me $300. Money would help us forestall recession, the president told us, if we went out and spent it. He didn't add what he must have hoped, that money would help us forget, like the $20 your no-show dad slips you when he comes by. I don't remember what I did with that $300, but I think of it when I hear about a bridge collapsing.
Now it's eight years later, and I am once again ready to forget. I've tried aesthetics: Carmen Herrera at the Whitney, Saul Bellow's sentences, Kate Bush's live album. But maybe the shut-ins with the Home Shopping Network are right about the consolations of commerce. I found that art moving, but the place I've found what I need — optimism, exuberance, uncomplicated beauty, something approaching joy — is at Gucci.
There's a joke in an episode of Seinfeld about men wearing tuxedos to be wed in because men are interchangeable. The tuxedo is just a fail-safe; per Jerry, "In case the groom chickens out, everybody just takes one step over and she marries the next guy. That's why the wedding vow isn't Do you take Bill Simpson? — it's Do you take … this man?"
I don't want to be Bill Simpson or this man. The election already made me feel like a data point, a blip outnumbered, and its grim conclusion has made me feel insane. Not insane enough to buy anything from Gucci, because in its particular concept of the world, being an individual comes at a high cost. But looking at Gucci's world, its shoes, its clothes (online, and in one pilgrimage to the store downtown, preferable to the local flagship inside you-know-who's Fifth Avenue tower) is a respite. It's nice to dream.
I dream of a bright-green sweater with a jaunty bee on it, a powder-blue silk tuxedo embroidered with a wolf, a schoolboy's flannel jacket with some red grosgrain, a mink-trimmed coat with foo dogs on my back. I dream of a concept of masculinity that isn't so wholly concerned with uniformity. I want to look how I feel, which is different, but not too. That's Gucci: dangerous but safe, cool but not too, gay but not just for gay guys. I want clothes with charm and levity because I want a life marked by charm and levity, now more than ever.
Yes, fashion can be silly. Furthermore, the sort of high-end, dreamy fashion of which I speak isn't even for me. It belongs to women. Years ago, I lamented to my then-boss, the editor of a fashion magazine, about raincoats for men. They were all brown, brown, brown. She barely pretended empathy, and said: Men get to wage war and control the global economy. Women get clothes. She was not wrong. Men can like fashion, of course (I do!), but men are afforded the power to renounce fashion's power.
But I'm in awe of that power, especially, of late, the enthusiasm with which the designer Alessandro Michele has embraced pattern, print, color, the way he's subverted the serious business of big fashion at Gucci, the company he oversees, to create something silly, happy, and alive. It's no wonder, confronting what Michele hath wrought, that I feel this urge to shop: It's both my duty as an American and that I'm starved for silliness, happiness, and life.
For men and women alike, clothes are power, they're a signifier, they're a declaration, but what my old boss meant was that beauty, of the sartorial sort anyway, isn't actually for men. The occasional dandy/rock star/skater boy aside, most men in this country wear a uniform, one of only the most basic garments. I wish William Safire were still around to plumb basic's mystery; an insult when leveled at women, yet the very definition of style for men.
This is what men wear today, because this is what men are sold: black pants and dark denim, brown pants and white denim, flat sneakers in leather or canvas, unadorned pullovers, cotton tees, shirts in gingham or plaid, sweatpants and sweatshirts not meant for sweating in. I'm sick of this stuff, termed athleisure, Americana, classics, workwear, whatever. Give me a polka dot, give me a stripe, put a bird on it, something, anything. My brothers: Tuck in your shirts, stop wearing New Balance, and give the world a little more beauty.
One of the many American ideals that make no sense at all is that we're all a million rugged individualists marching in lockstep. We dress accordingly, at least the men. If it's always been thus, I yearn for the halcyon days of the man in the gray flannel suit because at least that guy had some flair.
I lack the daring of a dandy, the instincts of the iconoclast, the budget for the bespoke, so I'm hostage to the market. And my choices are scant. But it is a stroke of capitalist brilliance, men's fashion: Whether we want to feel au courant or disdain the entire enterprise, we dress exactly the same. Look at Casey Affleck as a working-class janitor in Manchester by the Sea and tell me he doesn't look exactly like a graphic designer on a Cobble Hill playground.
The prevailing definition of men's style — dressing like you have not dressed — must have something to do with the inequality of income. The one thing the rich cannot have is poverty, so they work at ways of making it their own: tiny houses, free-range parenting, deprivation diets, clothes whittled down to their most essential. We browse/buy via screen, where a Bottega Veneta sweater and its Banana Republic cousin seem the same but of course, not all basics are created equally: There's Adidas for exercising your body, and there's Raf Simons for Adidas for exercising your wealth.
The gospel — five/six/ten/a dozen items are all you need to be stylish! — is a lie because the garments we're buying at Uniqlo will need replacing in seven months. The bottom line always depends on our unending quest for style, so it's intriguing to see Gucci propagate a wholly different vision of men's fashion. Finally.
The designer Tom Ford was the architect of the Italian house's last major rejuvenation, creating a hard sexiness that seduced many, but true to the nature of fashion, Ford's vision now seems dated if not yet retro. (Give it time.) Alessandro Michele took over in 2015, succeeding Frida Giannini, and the house's evolution since has been like a summer-break transformation from gawky lad to Adonis, only in reverse, going from grown-up sexuality to sunny innocence.
Michele has ushered in an era of soft textures, strange colors, odd motifs, and campaigns and runway presentations in which everyone has mussed hair and looks like they've spent the afternoon snogging (not, importantly, fucking) and all they want now is a cup of herbal tea. It's fashion so idiosyncratic and asexual and odd that even as it's rooted in the history of the form it feels revolutionary.
Michele's Gucci, with its Napoleonic bees, crouching panthers, grimacing tigers, and colorful snakes, carries fashion's celebration of the boy over the man (prevalent on the runways if not in real life) to an extreme. Michele et al riff on the stuff kids wore — turtlenecks, odd patterns, dorky sweater-vests, and riotous colors — when Sears told parents to dress them as innocents rather than small adults. It's a callback to an era of optimism when Americans could sorely use a dose of that. It's not rigorously cerebral fashion but its essential idea — an Arcadian yearning for youth — seems one right for our times.
The question of how to imitate Gucci's exuberance will vex the low-end purveyors who determine how most of us dress. But one quality that will be easy to capture is the clothes' indifference to their inevitable obsolescence. I doubt most designers like to think about their wares being consigned to the racks at INA, but I sense that Michele wouldn't care about men putting away their tiger sweaters a year from now, as all childish things are meant to be bid farewell, sooner or later.
Fashion has underscored the interchangeability of men for a long time, maybe from the outset. Because the designers at Baby Gap and Crew Cuts have determined it would be cute if kids dressed like their dads, seemingly every American male between 2 and 52 dresses identically. Throw in a few red baseball caps bearing a meaningless pledge of allegiance, and you've accounted for essentially all men in this country.
In September of 2001, George W. Bush told us that we ought to go shopping. He meant, mostly, go outside and be not afraid. But also he meant buy something because that's patriotism, so intertwined are country and capital. Thus, window-shopping is all I can manage to express love of a country that doesn't love people like me. Men's fashion's tendency toward uniformity promises little fun, but at least it offers this: If I wear sweatpants and sneakers, I can pass as the American it's safest to be. I want the courage (and the thousands of dollars) to be a different sort of American.
Of course, Gucci is Italian, not American. And its particular predilection toward exuberance is one that feels Mediterranean, a descendant of Gianni Versace's jubilant excess. You see similar gestures toward embellishment and print in recent collections for men by Dolce and Gabbana and Valentino. What can it mean, I wonder, all this interest in beauty only a few years after Italy jettisoned its billionaire kleptocrat? I wish we had Mrs. Vreeland around, to dictate that it means beauty is coming back, that this is the start of the downward trickle we all know works so well in the economy (kidding, kidding).
But when you look at Gucci and its frippery, its fun, its almost desperate embrace of silliness, you think of the fashion of the roaring twenties, of the Weimar years. You think of fashion as an ideal of what the world could be instead of a reflection of what it is. Yes, yes, fashion is silly, but its lesson is that eventually everything old becomes new again.