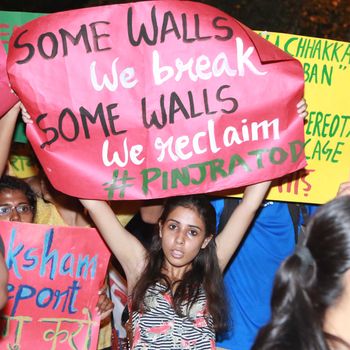 Photo: AMAL KS/Hindustan Times via Getty Images
Several colleges in India have long had curfews for women — between 6 and 8 p.m. for most, with either a later or no curfew for men — but with the addition of a "no ripped jeans" policy at St. Xavier's College in Mumbai, women are taking to the streets to protest strict and sexist rules for female college students.
Recently, St. Xavier's College, a Jesuit university in Mumbai, added a "no ripped jeans" policy to its already-strict dress code for women. (It also includes no sleeveless tops, shorts, or short dresses.) Pinjra Tod, a campaign against these strict rules, has expressed its discontent with the unfair new policy. Via Reuters:
"In the name of safety, you can't police women and impose these patriarchal, discriminatory rules," said Devangana Kalita, a former Delhi University student who is part of Pinjra Tod, or break the cage, a Delhi-wide campaign protesting such rules.

"We want universities to recognize that we are adults, and that they should not be curbing our freedom and mobility. Providing a safe environment for women goes beyond just imposing rules," she said.
Kalita also told Reuters that the curfews imposed on women at colleges are preventing them from accessing "internships, employment opportunities and campus activities." Staff at St. Xavier's College did not return a request for comment to Reuters.