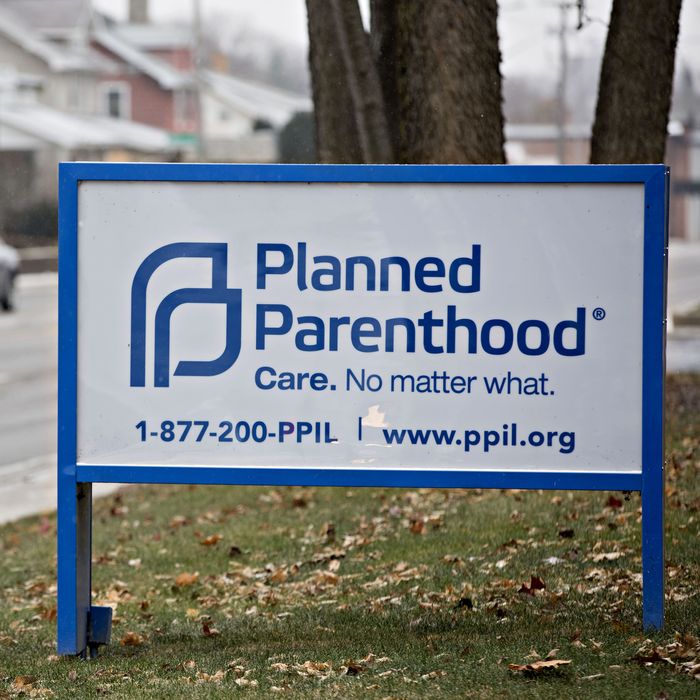 Planned Parenthood in Peoria, Illinois
Photo: Daniel Acker/Bloomberg via Getty Images
Planned Parenthood and several anonymous co-plaintiffs have filed a temporary restraining order and preliminary injunction to stop Texas from cutting the health clinics from Medicaid's network of providers.
Back in October 2015, Texas suddenly terminated the Medicaid providers' contracts with the only four Planned Parenthood clinics in the state. After an ongoing investigation, the state issued a final termination notice on December 20 to cut Planned Parenthood from its network of approved Medicaid service providers.
According to the lawsuit, the Texas Health and Human Services Commission's termination of the Medicaid contracts would adversely affect almost 11,000 low-income women. Although Republicans have argued that other clinics would be able to effectively absorb the clients that would otherwise have gone to Planned Parenthood, a recent study showed that the initial termination in October 2015 resulted in the use of less birth control and more unplanned pregnancies among low-income women.
One of the co-plaintiffs stated, "I have a five-year-old son. I am a single parent and I am insured through Medicaid … I don't have a general doctor I go to. I try to get all of my health care at PPST [Planned Parenthood South Texas]. If PPST could not stay in the Medicaid program, I do not know how I would get the services I need. I could not afford to pay for them and would not know where else to go."
In the filing, Planned Parenthood referred to the plan as "a politically motivated witch hunt and the culmination of a concerted effort over more than a decade to come between the Provider Plaintiffs and the thousands of low-income patients they serve for a variety of family planning and sexual health needs."
Yvonne Gutierrez, executive director of Planned Parenthood Texas Votes, promised, "Planned Parenthood's doors are open to its patients today and they will be open tomorrow. We will fight tooth and nail to protect access to health care for all Texans. Politics should never come before health care that people need."