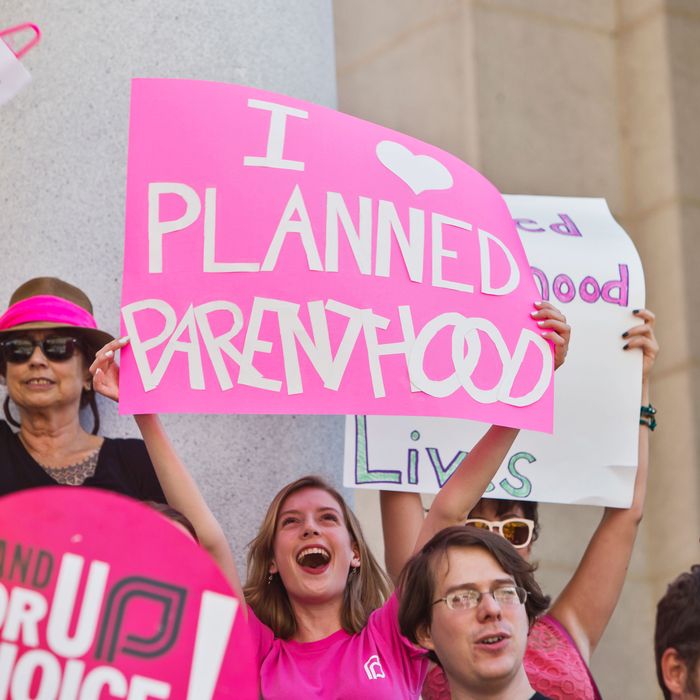 Planned Parenthood supporters.
Photo: Ted Soqui/Corbis via Getty Images
With less than a month before the Women's March on Washington on January 21, the event's organizers on Tuesday announced that Planned Parenthood Federation of America has signed on as a partner. Feminist icon Gloria Steinem and actor and humanitarian Harry Belafonte have also joined as honorary co-chairs.
The march, which is set to take place the day after Donald Trump's inauguration, now has more than 70 partners, including the Center for Reproductive Rights, Amnesty International, the NAACP, and more. In a statement, Planned Parenthood president Cecile Richards said the group was "thrilled" to partner with the march to "protect the progress" women have made, and to show a united front on behalf of women's rights.
"We will send a strong message to the incoming administration that millions of people across this country are prepared to fight attacks on reproductive health care, abortion services, and access to Planned Parenthood, as they intersect with the rights of young people, people of color, immigrants, and people of all faiths, backgrounds, and incomes," Richards said.
Likewise, Steinem and Belafonte — who are perhaps best known for their work in women's rights and racial justice, respectively — joined to show that the march is standing up for all women. Steinem said in a statement, "I am proud to be one of thousands who will come to Washington to make clear that we will keep working for a democracy in which we are linked as human beings, not ranked by race or gender or class or any other label."
The event, which will be held by the U.S. Capitol at the intersection of Independence Avenue and Third Street Southwest, is expected to draw nearly 200,000 people, with simultaneous sister marches taking place at more than 30 different cities across the country.