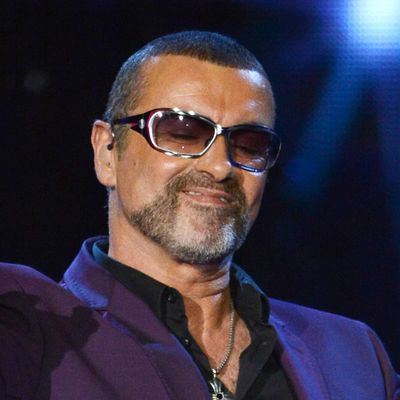 Photo: Dave J Hogan/Getty Images
The hugely influential pop star George Michael has died at the age of 53.
Michael's publicist Connie Filippello confirmed the news in an official statement. "It is with great sadness that we can confirm our beloved son, brother and friend George passed away peacefully at home over the Christmas period. The family would ask that their privacy be respected at this difficult and emotional time. There will be no further comment at this stage."
Michael burst onto the music scene as one half of Wham! in 1981, before going solo in 1987. His music career was full of hit singles and unforgettable music videos, but the most well-known was "Freedom '90," directed by then-unknown David Fincher and starring Cindy Crawford, Naomi Campbell, Linda Evangelista, Christy Turlington, and Tatjana Patitz lip-syncing the song's lyrics. The video was artful, stylish, engaging, and sexy, and it embodied the age of the original supermodels, who dominated fashion in the early '90s in a way that hasn't been happened since.
Michael's most famous pop songs were deliriously catchy and sexy, but they also pushed boundaries and sparked conversation, from "I Want Your Sex" and "Father Figure" to "Faith" and "One More Try." And, of course, we would be remiss to leave out his heartbreaking holiday anthem "Last Christmas."
In honor of the 26th anniversary of "Freedom '90," Vogue recently remade it with a whole host of today's runway walkers, such as Adriana Lima, Joan Smalls, Taylor Hill, Anna Ewers, and Irina Shayk.
Watch "Freedom '90" below.