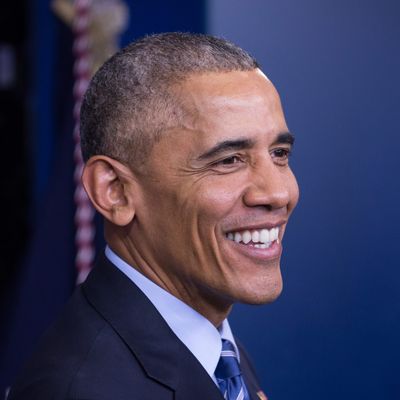 President Obama was once that guy.
Photo: Cheriss May/NurPhoto via Getty Images
Most of us met President Obama midway through his cool-dad phase, but as the president revealed on CNN's The Axe Files Monday, he wasn't always so easygoing. In fact, he admitted to his longtime friend David Axelrod that, in retrospect, he was "wildly pretentious" in college.
To prepare for his next book, Obama said he's been going through some of the journals he kept in college. And in doing so, he came across "letters I've written to, you know, girls you're courting or something." He described the letters as "impenetrable. I mean, I don't — I don't understand what I'm saying, right? There's all kinds of references to … France and all this stuff and I'm like, 'What are you talking about?'"
AXELROD: But those are cool pickup lines, I bet.

OBAMA: They didn't work, I think, because people were all like, 'Wow, this guy is just too intense. He needs to lighten up.' I should've tried like, you know, 'Wanna go to a movie or go on a picnic?'

Thank goodness he grew out of his Guy in Your MFA phase before he met Michelle.