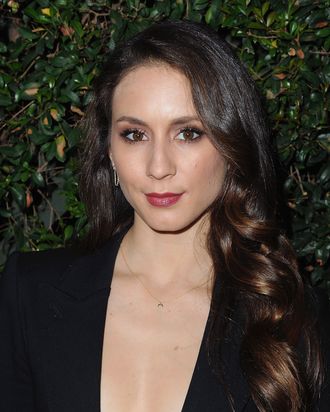 Troian Bellisario.
Photo: Jon Kopaloff/FilmMagic/Getty
It's been a crazy few weeks for Troian Bellisario. Not only did she recently wrap filming on Pretty Little Liars after seven years of starring as Spencer Hastings — the type-A woman terrorized, fittingly, by a person known as "A" (and then later, "Uber A") — but she also married Suits actor Patrick J. Adams over the course of a bohemian, camp-themed weekend. The Cut caught up with Bellisario shortly before her wedding to chat about life on set, her new partnership with Origins for the opening of their new store at Disney Springs, and finding time for sleep.
Wellness, to me, is: Taking care of yourself and listening to your body. It's a constant struggle, I think, because we have a world that's full of deadlines, alarms, time restrictions, and little devices in our hands that tell us where to go and when to be there. But wellness is really quieting all of that exterior stimulation down and trying to listen to your own body about what it means.
How I start my mornings: What I want to do is get up and go immediately to coffee, but what I try to tell myself to do is to get up and generally have some hot water or just some water with lemon. Then I will go on a run, and when I get back I try to fix myself a good breakfast — and then I have my coffee and am generally not crazed throughout the day.
On wellness while filming PLL: Shooting a television show for nine months out of the year, seven years in a row, takes a lot out of you. It's a pretty big requirement on your life, especially the energy requirement. It's waking up sometimes at 4:30 a.m., or shooting well past 4:30 a.m., and doing that in the same week. It's not a lot of sleep. There's a lot of stress because television moves at an incredibly fast pace, and even though it was a really great work environment, you're trying to make a product on a pretty intense deadline. There were also a lot of long nights running around in the woods acting scared, which takes a toll on your body.
So wellness became very important for me on the days I could rest. On the weekends, it became very important for me to figure out when I could get that extra sleep in and try not to burn the candle at both ends by going out with my friends. Even though it was tough to say no to those invitations, it was really important, because Saturday night was the only night I had to myself.
How wellness has changed since wrapping PLL: It didn't change as much as I thought. My body has been greatly enjoying sleeping in and not setting an alarm clock. That is the jam. I feel like I honestly have not done that in seven years. I've been really enjoying letting my body wake up naturally and also just having the time to get daily exercise.
I'm somebody who really likes to be active — I like to be outdoors. Sometimes waking up and going directly to a set and working until you get home and just collapse in bed leaves you exhausted, but leaves your mind wired. So it's been really wonderful to be able to have the time to do yoga or dance class or just go out walking with my dogs and to be quiet.
On filming a PSA about eating disorders: I really had never intended on speaking out publicly about my experience with anorexia nervosa and the ongoing struggle with it that people with the mental illness have. But I was doing an interview with Seventeen a few years ago, and they asked me what my life was like when I was 17, and I thought very clearly to myself, Well, I can either lie about this or I could tell people the truth.
That was very important because the fans of my show are young women, so I knew that there would be a number of them who would definitely be dealing with disordered eating, whether in fact it was a mental illness or eating disorder. So I thought it was important that I speak out about my recovery process and seeking treatment.
And recently, I wanted to do a PSA about it because support and mental health was a very big part of why I wanted to vote for Hillary Clinton in this past election. Although it turned out that she is not going to be our next president, it was a very, very important issue to me to provide treatment for all Americans, and also to treat mental health just as we treat physical health. I thought that the best way I could support that cause was by speaking out about my own personal experience.
Why I love aerial acrobatics: I'm a really active person. I grew up in dance — my mom was a dancer, and dancing was always where I felt my most free. I had a couple of friends who were circus performers, and they showed me that you can dance in the air. So I was like, Hell, yeah, why wouldn't I want to learn that?
My biggest wellness struggle: To be honest, because I have such a complicated history with food, the biggest day-to-day struggle is just making sure I maintain a healthy diet. Even if you are several years into your recovery, whereas some people may just forget to eat or be too busy running around to eat, that is a very significant stress on my mental state, and it links back to some really unhealthy habits. Making sure that I eat in a healthy way and on a pretty regular schedule — and making meals a social activity and not just shoving a protein bar in my face in the dark just to make sure I have fuel — is my biggest wellness struggle.
On changing up my skin-care routine seasonally: One of the things that I didn't really know about until I started working with my regular makeup artist on my show is just — even in California — the change between summer and spring, and fall and winter, in the moisture levels in your skin. I have to wear makeup from a very early point in my day until the end, so when I get to take it off, it's very important to make sure that I put all of the moisture back into my skin so that the makeup doesn't strip it and the weather doesn't strip it. I've been having a lot of fun since I recently got to pair again with Origins — I've been such a big fan of them. They have this ginseng moisturizer that's absolutely amazing and has coffee-bean extract and ginseng. It keeps your skin alive while also moisturized. Stuff like that is really important to my skin-care routine, especially in winter.
My best wellness advice: Just listening to your body. It's a daily practice, and it takes a lot of quiet and stillness to really listen to your body — to listen to what it needs for nourishment and to listen when it's thirsty, and not just feed it a soda or coffee. Just give it water and take care of it. Listen when it wants to stretch its legs and walk out in the sunshine, and when it needs a day to sit on the couch.
This interview has been edited and condensed.