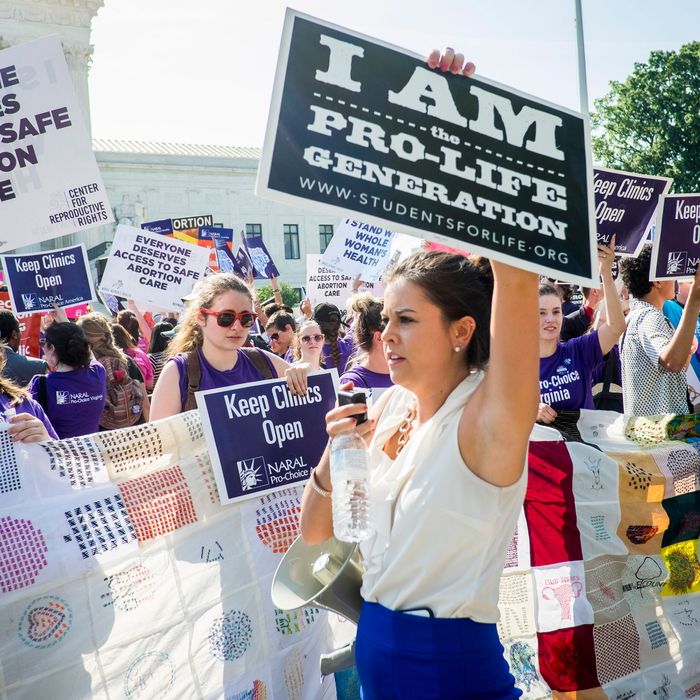 Activists at the U.S. Supreme Court for Whole Women's Health v. Hellerstedt in June.
Photo: Pete Marovich/Getty Images
The Oklahoma Supreme Court on Tuesday blocked a law that requires doctors at abortion clinics in the state to have hospital-admitting privileges, finding that the regulation places an undue burden on women seeking lawful abortions.
Oklahoma Senate Bill 1848, which was signed by Republican governor Mary Fallin in May 2014, required reproductive-health clinics to have doctors with hospital-admitting privileges onsite whenever abortions were performed. The Center for Reproductive Rights filed a lawsuit challenging the law, and on Tuesday, the state's high court found that the law is unconstitutional. The court also said that the law goes against the recent U.S. Supreme Court decision in Whole Women's Health v. Hellerstedt, which threw out a similar abortion-clinic shutdown law in Texas.
Nancy Northup, president and CEO of the Center for Reproductive Rights, said in a statement, "Whether in Oklahoma, Texas or elsewhere, allowing politicians to trample women's rights by shutting down clinics is not only wrong — it's dangerous. Today's decision is a victory for Oklahoma women and another rebuke to politicians pushing underhanded laws that attack a woman's constitutionally guaranteed right to safe, legal abortion."
Earlier in the year, the Oklahoma legislature passed a bill that would have made it a felony for anyone to perform or induce an abortion, and would thereby completely block abortion access in the state. However, Governor Fallin vetoed the ban in May, saying that it was vague and unconstitutional.