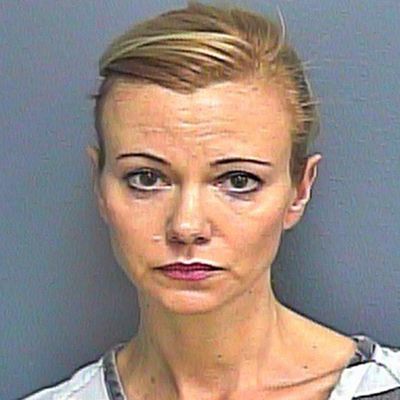 Sarma Melngailis.
Photo: Sevierville Police Department
The former restaurateur of the once-celebrated Pure Food and Wine might not face as many years in prison as threatened if a judge allows a plea deal to go forward. Prosecutors offered a plea deal to Sarma Melngailis, the former owner of the vegan restaurant, who became embroiled in a bizarre tale of crime involving grand-larceny charges. According to the New York Post, Melngailis would serve 1 to 3 years behind bars instead of the maximum of 15 years in prison she faces for the top count of grand larceny in the second degree.

Prior to being arrested, Melngailis was on the run with her then-husband, Anthony Strangis, who did the two in by placing an order with Dominos. And to look at the relationship between the unlikely couple (for starters, he's not even a vegan) is to look at a twisting and not-altogether-coherent narrative. According to a story in Vanity Fair from November, the duo met via Twitter and things quickly took a downward turn for Melngailis, who soon began to avoid deposits and withdraw cash from her restaurant business to support a lavish lifestyle for the two. Exactly why she decided to do so remains unclear. What is known, though, is that prior to meeting the vegan business owner, Strangis had his own shady past and had abandoned his previous wife with their child months after the child was born. While with Melngailis, Strangis is said to have "resorted to cult-like techniques, including gaslighting, sleep deprivation, and sexual humiliation, to control her," according to Vanity Fair.

Melngailis is accused of stealing more than $800,000 from investors in the vegan restaurant in Gramercy. She's also accused of failing to pay $400,000 in sales tax and she owes employees a total of $40,000 in wages after she stopped paying them earlier this year. She is currently out on bail and set to appear again in court on January 23.