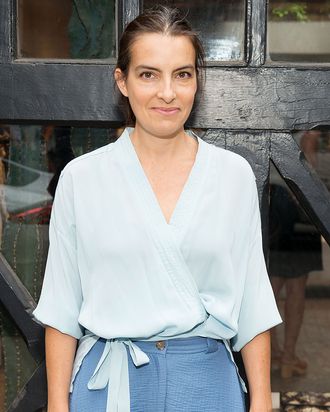 Rachel Comey.
Photo: Noam Galai/Getty Images
Will anybody be left at New York Fashion Week? Today, Rachel Comey became the fifth NYFW habitué to announce that she'll be decamping to Los Angeles for the fall 2017 season in February. Per a release from the brand, Comey has picked the sprawling downtown gallery Hauser Wirth & Schimmel as the site of her next show.
The gallery, which opened this year, has an on-site restaurant, Manuela, which will be incorporated into the show (we're guessing as part of one of Comey's famed dinner party–fashion show hybrids). The gallery is shaping up to be a fashion destination, having also been the site of the Prada screening of Past Forward last month. Comey's show will take place on February 7.
Comey joins Tom Ford, Tommy Hilfiger, Rebecca Minkoff, and Rachel Zoe in swapping New York for L.A. Dior also announced this week that its cruise show will take place in an unnamed Los Angeles location come May.