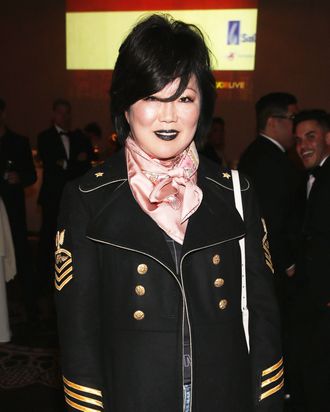 Margaret Cho at the TrevorLIVE Los Angeles Gala and Fundraiser.
Photo: Getty Images
Margaret Cho has never hesitated to speak her mind, but at last night's fundraiser for the Trevor Project in Los Angeles, she managed to take on everything from her mentor Joan Rivers to the president-elect in one rapid-fire, free-association speech. She also worked in her own experience of sexual assault, and how hard it is to talk about it at comedy clubs, before riffing on the New Testament.
The Trevor Project's annual TrevorLIVE event raises funds for the organization's mission of helping LGBT youth in crisis. Last night's event honored Kelly Osbourne, Ingrid Nilson, and Facebook, but only after Cho kicked off the evening with her dizzying routine. Read the full text below.

I love this organization because it really speaks to me. As a kid, I was bullied. I was different. I was weird. I realized really early on that I was bisexual. I am the B in the LGBT. You don't hear a lot from the bisexual community. We're here, though. So hi. Hello.

No, but I was bullied a lot as a kid, and I remember being in an auditorium at a school assembly, and all the other kids were there, and I was sitting on a bench by myself and no other kids would sit next to me. I sat there and I thought I was the loneliest child in the world, and then I thought, I'm a star. You know when you see gay kids, you see the little boy who is like [sings Lady Gaga's "Bad Romance"] mow, mow, mow, mow, mow, you've got to make sure they see you being happy, holding your partner's hand, laughing, shopping at Whole Foods, drinking a $10 juice, because you've got to make them know that there is hope.

I left school real early because I was bullied a lot, and I felt weird. I told my mother when I was 14 I wanted to be a comedian, and she said, "Oh, maybe it's better if you just die." So not supportive, but that's all right.

I came to Hollywood, I found a showbiz mom. My showbiz mom was Joan Rivers. Yes, the best friend I had. She and I would fight all the time because she thought I was fat. She was like, "You're so fucking fat. You're so fucking fat. If you gain any more fucking weight, I'm going to fucking die." My bad.

We need humor right now. We need comedy in this world. I cannot believe that Donald Trump is president. How can he be president? He can't even blend his under-eye concealer. You can't buy a beauty blender, you can't be president.

Understand, I worked for Hillary Clinton. I was there in Las Vegas, trying to register voters in Chinatown. Asian people do not want to vote. Like, I was going in Chinese restaurants with a clipboard and all these white people, and they're like, "No, no, no!" They didn't want it, but I was there at the debates.

I just think Donald Trump is dumb. He's like all mad at abortion. He wants to outlaw abortion. At the debates he's always screaming about late-term abortions like, "I've seen babies ripped from their mother's womb at nine months!" That's called birth! So in case they outlaw abortion, we're going to have to do what women did in the 1960s. They would get together in each other's homes and they would practice menstrual extraction. I've had it done. It's really easy. You just get a tube, and it's like stealing gasoline. Have you had boba? Just like boba. I figured it out for you.

But he's just gross, like the way he talks about Ivanka, his daughter — you know, how beautiful she is, and how he would date her if he wasn't happily married. Ew! That's what stops you, that you're happily married, not that you're her father or anything? Who does he think he is, Woody Allen? No, he thinks he's Bill Cosby. Fifty-two women have come forward about Bill Cosby, all with the same story. They all went out with him, he put something in their drink, they all woke up with the same sweater print on their face.

Rape is the worst crime because, at least with murder, the victim is dead. With rape, the victim lives on with part of them dead, and I understand this. I am a survivor of rape. I was raped by my uncle from the age of 5 to 12, and I don't attend family functions because I don't want to see him again, because I don't want to fuck him again, because that's what would happen because we never broke up. You are blaming the victim right now.

Let me tell you something. We have to talk about rape and abuse. We have to talk about it because we shine a light on it when we talk about it, and if we shine a light on it, we have a shot at making rape obsolete. That is my hope and my goal in the future. So I talk about it, and my Korean family, they're not having it. They do not like it at all. They're just like, my mom, "I know that he's a rapist because he already raped your aunt, so you're not special. And he's old, he's going to die soon. So what we can do is, when he dies, we can cremate him and I let you flip the switch."

I talk about this in comedy clubs and they get really freaked out. They don't want to hear it. I did this show in New Jersey and this woman got up and she was like, "You can't talk about rape on Easter." Uh, yes, I can talk about rape on Easter because Jesus was a rape baby. God did not text Mary to see if she was down to fuck. No. Before I did comedy, I taught the Bible to children. I know what I'm fucking talking about!

The Bible is mostly bullshit except some of the New Testament is kind of okay because Jesus is such a power bottom. He has 12 boyfriends. That's Matthew, that's Mark, that's Luke, that's John, that's Peter. He was a bear! All Jesus does is entertain. He throws parties. Like oh, is there not enough food? Loaves and fishes, bitches! You're drinking water? It's wine now, girl!

All of the depictions of Jesus are crazy. Like the craziest one is The Passion of the Christ. That movie, Jesus is getting whipped, and whipped, and whipped, and the whole time I'm like, "Oh, Jesus, please say your safe word." But I am so pleased to be here with you tonight. This is for the children, honey. Good night.
Reporting by Carita Rizzo.