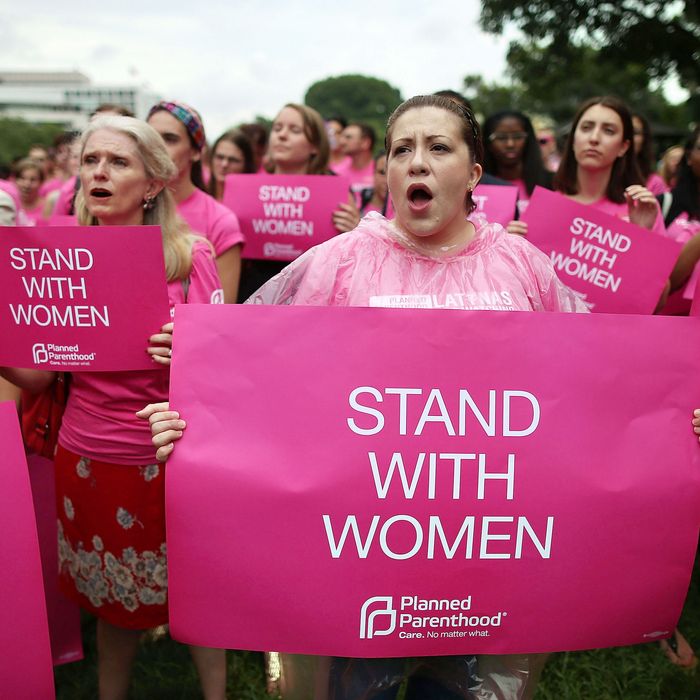 Planned Parenthood supporters.
Photo: Mark Wilson/Getty Images
The Senate Judiciary Committee released a new report on Tuesday, calling on the Department of Justice to investigate Planned Parenthood over claims the organization and medical-research companies sold fetal tissue. The report is merely the latest in a series of ongoing attacks against Planned Parenthood by Republican lawmakers.
Committee chairman Senator Chuck Grassley, a man who is perhaps best known for his inane tweets, accused the organization of "turn[ing] a blind eye" to its affiliates' alleged practice of selling aborted fetuses for medical research. Yet, in October 2015, Planned Parenthood took steps to ensure that the "handful of health centers" involved in fetal-tissue research no longer receive any reimbursement for the reasonable and legal expenses associated with tissue donation.
At the time, Planned Parenthood president Cecile Richards said in a statement that the new policy should remove "beyond the shadow of a doubt the ludicrous idea that Planned Parenthood has any financial interest in fetal tissue donation." The policy change should also show that the GOP's ongoing investigation into the matter has nothing to do with fetal-tissue research and "everything to do with banning abortion in the U.S."
However, in a Tuesday statement, Senator Grassley accused Planned Parenthood of enabling the practice to continue. "I don't take lightly making a criminal referral. But, the seeming disregard for the law by these entities has been fueled by decades of utter failure by the Justice Department to enforce it," Grassley said. "And, unless there is a renewed commitment by everyone involved against commercializing the trade in aborted fetal body parts for profit, then the problem is likely to continue."