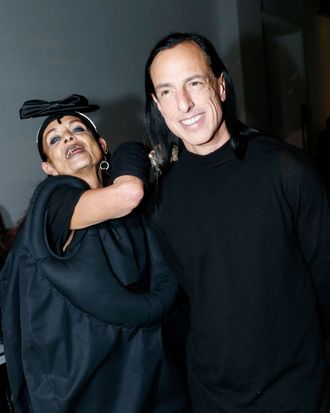 Michele Lamy and Rick Owens.
Photo: Bertrand Rindoff Petroff/Getty Images
Which anniversary is the "construction equipment" one again? It must be whichever one those crazy kids Rick Owens and Michèle Lamy are on. Next week, Owens will debut a show of the couple's furniture designs at the Museum of Contemporary Art in L.A. He managed to give an interview to Women's Wear Daily that mostly veered off that topic, in true Owens fashion.
Lamy has been hard at work installing the pieces in the exhibit herself, and Owens said, "One day for Christmas I am going to get Michèle her own crane. She loves heavy machinery." He later described her as "a magical fairy witch who needs to go out there and connect with people, fight with them, throw her jewelry at them." The tired concept of "relationship goals" just got a new lease on life.