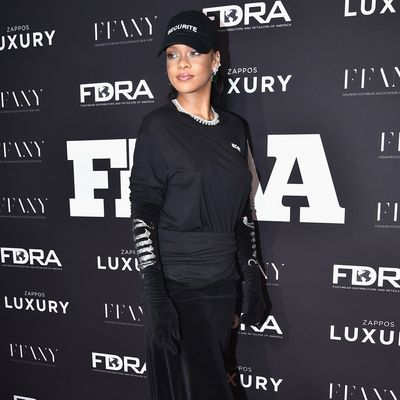 Rihanna.
Photo: Theo Wargo/Getty Images
Whichever way you break down the meaning of an unfollow in today's social-media age, it's not good. You can take it as a sign of anger, frustration, or even despair, but it's certainly, at its base level, a big ol' "I'm done with you." Our social media feeds are too precious, we say, to be wasted on anything that doesn't bring us joy! Much less people who anger us, hurt us, or have — gasp! — betrayed us.
Okay, now that's established, let us come to the not-so-covert unfollow that Rihanna proceeded with recently. She is no longer following Jennifer Lopez on Instagram, according to E! News. Dun-dun-dun!
Why is this so curious, you ask? Well, let us remind you of a certain someone by the name of Aubrey Drake Graham, who never fails to swoon over women on social media, on very large stages, and in front of very large crowds. And lately, the man has not shied away from posting about Jennifer Lopez. Indeed, the two have been "hanging out" after Drake rented out a restaurant for J.Lo and some other friends for a private celebration. J.Lo, for her part, has apparently been relishing the attention and even reportedly turned down a $1 million New Year's Eve gig in Miami to — get ready for it — spend time with Drake. Or, you know, just some "personal and family time."
Now, RiRi and J.Lo go way back, according to E! News. The two have been supportive of each other in the past and RiRi once sent a pair of booties to J.Lo, which she later wore in a music video in a sign of friendship.
But these days? Well, it seems that Rihanna has been streamlining her news feed and doing perfectly fine without any updates from Drake and J.Lo. Whether this has anything to do with their romance rumors is unclear, of course. Regardless, one thing is clear: @badgalriri has been happily promoting her fashion, hanging out with Prince Harry, and working on Ocean's Eight. Oh, and getting in the holiday spirit!