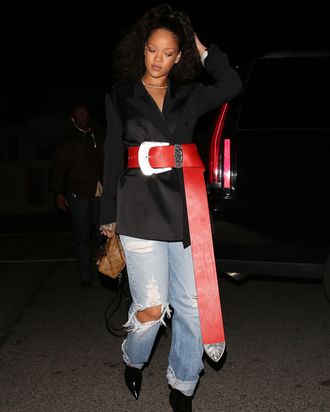 Rihanna.
Photo: Pap Nation / Splash News/Pap Nation / Splash News
Leave it to Rihanna to borrow a little something from Santa's totally not-so-stylish classic red outfit and make it, well, stylish? While stepping out in Los Angeles on Wednesday, Rihanna sported an otherwise pretty casual (again, this is Rihanna) ensemble consisting of an oversized, double-breasted blazer, denim jeans and black, pointy books. It's enough of an outfit for any stylish star, but RiRi (being RiRi) added one more statement-making piece: a truly oversized red buckle belt that looks as if it once belonged a man by the name of Saint Nicholas.

While basics everywhere might opt for a cute ol' Santa hat or elf ears for the holidays, RiRi went right ahead and stole Santa's belt.

Guess she has a lump of coal in store for her?