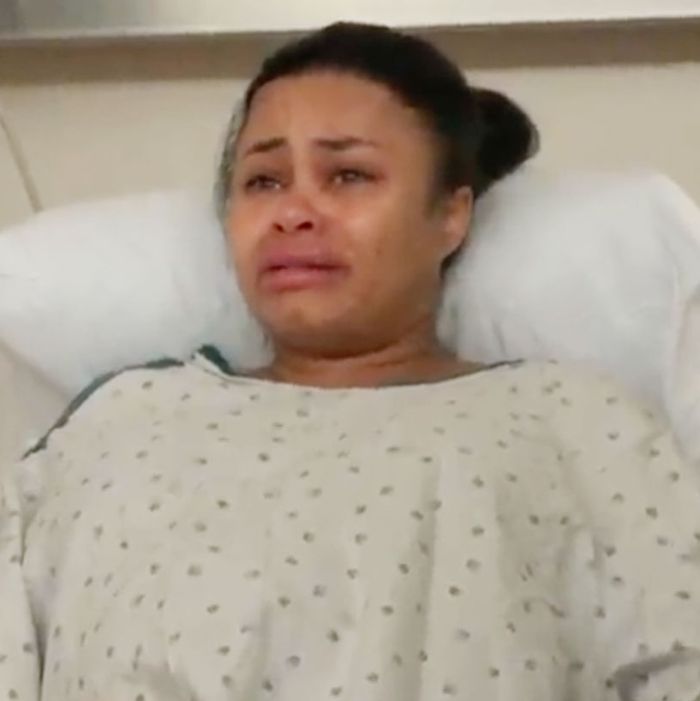 Rob Kardashian and Scott Disick had some thoughts on how Blac Chyna, pictured, should give birth.
Photo: E!
In what is hopefully the final chapter of the Rob Kardashian Jr. and Angela "Blac Chyna" White story in the year of 2016, the couple's long-awaited birth special aired on E!. As always, this episode was the generic store brand version of its ruler, Keeping Up With the Kardashians.

Plus, last night's episode was like pouring fresh hot water over the used teabag of this past weekend's Snapchat and Instagram drama. As of right now, the new parents are not together, and Chyna moved everything out of their new shared home, which is owned by Kylie Jenner. This baby special, in which Rob and Chyna are sweeter than a seven-year-old cavity, is like watching someone go to Disneyland for the first time after privately being told this person has two hours to live.
In a very quick montage of stolen glances, quick kisses, and produced giggles, Rob and Chyna reminisce about their tumultuous past the world saw on the first season of Rob & Chyna. Now, though, they're happier and healthier than ever as they prepare to finally welcome their newborn daughter into the world. Rob claims to be diabetes-free (his doctor must have been using a candy cane and a Jolly Rancher as a stethoscope, because this is impossible), business is apparently booming (sure it is), and he's looking to find a new home for his family.
There is one major concern looming over the happy couple, and that's a VBAC. Rob took the liberty to explain to us that VBAC stands for vaginal birth after cesarean. As a first-time father and all-around scrub, he absolutely does not want Chyna to have another C-section because it will lower her chances of birthing more children. Now, I'm no doctor, nor have I produced anyone's child, but Rob's treating a C-section like it would mean opening the door to the past and giving birth in the 1800s without medical assistance. Also, honey child, Rob, let this woman do what's best for her body and her baby. Still, they invite a VBAC specialist to their home for a tutorial on how to labor in preparation for a vaginal delivery. Everyone sits on the floor, and the specialist gets comfy on all fours as she rocks her body back and forth while moaning, simulating contractions. Rob and Chyna are holding back laughter, and Chyna rubs Rob's crotch to make sure he's not too excited.
Later, Chyna shows Rob mood boards for the baby's nursery. Rob likes the gray-and-white theme Chyna's picked out, but thinks it will look best in his home, or a new home. Chyna insists that she's not moving, which is the punch line of the episode. For the moment, Rob puts the issue aside.
With a friend named "B," Chyna visits a specialist to get 4-D sonograms of her baby. I guess the sonograms are cute? Much like a regular sonogram, the baby looks like a baby in utero, but has her tongue out. This tickles Chyna, so she FaceTimes Kris Jenner. Kris, who's with Kourtney, immediately picks up. Kris and Kourtney love the sonograms. Kourtney tells Chyna that she must keep them forever, and Kris says she'll make one her screensaver. Though she's had quite a hard time with the Jenner family, Chyna still thinks of Kris as a second mother. Chyna says that Kris helps her with everything from health insurance to her personal life. Plus, she still calls Kris "Miss Kris," which is simply legendary.
That night, Chyna hosts her mom, Tokyo Toni, her best friend from back home, Treasure, and a group of other friends clad in leopard-print onesies. They're ready to turn up before Chyna and Rob's official baby shower, which is happening sometime in the near future. Rob also pops in wearing a red, form-fitting onesie and a genuine smile. With him is a man who is never fully in frame, though it's clear he's wearing a large piece of neck jewelry that may have a clock on it. No, he is not Flavor Flav. But, because of his proximity to Rob, he could be the man overheard in Rob's Snapchat's last Saturday after Chyna stole his food. I would like to think that's him.
Chyna, Rob, and their friends have some drinks outside, but Chyna tries to put Tokyo Toni to bed early before her mood gets out of control. Especially since tensions will run high once Toni and Kris come face-to-face for the first time in years. The two met a few years ago, but once Kylie and Tyga started dating, Toni lost her cool online and said some pretty hateful things toward Kylie and her family.
Treasure asks if Chyna's anxious for Kris and Toni to meet. Chyna's not, but hopes her mother can practice restraint and lay off of social media.
While Los Angeles's finest jewels Chyna and Treasure talk about Toni, Rob is at his house talking to Scott about C-sections. After making a weird race joke comparing Chyna to Rob's oversize black-swan pool toy, Scott wastes no time in telling Rob that he should urge Chyna to deliver vaginally. Just the two men Chyna should take birthing advice from! Yet and still, Rob agrees with Scott and decides to continue pushing Chyna to have a VBAC.
Aside from talking to one of the most subpar dads in Southern California, Rob hires a group of dudes to go to a shooting range with him. He claims that these are his friends with kids, but I'd love to see an exclusive cut of Rob naming these men one by one, telling the camera exactly how he knows them and relaying their children's names. The only person Rob has maybe met before is Eddie, who tells him not to pressure Chyna into moving while she's pregnant. Eddie's a good man. First, he doesn't mind holding a conversation over the ricocheting bullets, and second, he tells it like it straight-up is. Eddie even tries to place himself in Chyna's shoes and almost has the wind knocked out of him when he imagines moving while in his third trimester, or even worse, going into labor when everything isn't even moved in.
While Rob plays with strangers and bullets, Chyna makes her way to her baby shower in a party bus surrounded by her friends, Toni, and King. At the shower, Scott is the only Kardashian/Jenner representative available. Rob mentions that this is only because the rest of his family is in Paris for Fashion Week. There's no mention of Kim's robbery, though. The highlight of the shower: a young white, parentless boy, who tells Chyna that her mom is "dancing her life out."
Back at Chyna's house, she has a heart-to-heart with her mom before welcoming her first daughter. Toni thinks Chyna should set the same ground rules that she did, which include not partying or turning up with her child. Chyna looks very confused — every time we've seen Toni on our television screens, she has been either partying or turning up with her child. When Chyna points out her hypocrisy, Toni just says "no." They two also talk about Toni's behavior around Kris, once they finally meet again. Toni doesn't think there'll be an issue if Kris behaves, because Toni only goes off when it's deserved. Basically, this conversation is a bottomless pit of nothing.
It's getting closer to Chyna's delivery date, and she's found out that she'll have to have a C-section. Like King, this baby hasn't dropped, so she can't deliver vaginally. Rob treats this news like Chyna told her both she and the baby would need open-heart surgery. There is one real complication with the C-section, though, and that's the number of people allowed in the room as the surgery is happening. This decision requires a visit to Miss Kris's house.
Miss Kris is at her house and she looks fabulous. Simply lounging in Adidas track pants, a bodysuit, and Yeezys, she welcomes her guests with open arms. Well, except for Toni. She stands still, arms to her side, as Toni slides past her. After being grossed out by the details of a C-section, Kris calls Dr. Crane to ask if both she and Toni can be in the room while Chyna's under the knife. He gives her a quick "no," telling them that they'll have to pick a grandma. Graciously, Toni allows Kris to be in the room. Kris calls Toni "selfless" for this act of love.
A few days after their visit with Miss Kris, Rob and Chyna make their way to the hospital for her C-section. Chyna can't stop crying because she's anxious about the surgery, and everyone tries to calm her nerves. Miss Kris arrives in full glam and a skintight jumpsuit. Corey Gamble, whose face is blurred, is also there. I can't help wondering if he's allowed his likeness to be used only on Keeping Up With the Kardashians, but I bet it's because he forgot to sign a release.
Everyone cries as Chyna is wheeled into surgery, and since the room is so small, Kris Jenner acts as cameraperson and producer. Via a graphic on the bottom of the screen, we're told it's Kris's footage, but the film quality is no different from the rest of the episode, and she's in multiple shots. We may never know how she pulled this off, but I'm thankful for her service. After some blurry glances of Chyna's open abdomen, baby Dream Kardashian is born. There's no A Baby Story reveal of her full name, weight, time of birth, or DOB, but she sure is a cutie. Rob cuts her umbilical cord, and she's placed on Chyna's chest. In their confessionals, Rob sheds a tear over his new baby girl, and Kris calls this the start of a new beginning.
I'm very happy that Cedars-Sinai maintains its strict OR visitor limit, because even Khloé got a turn at being a producer and camera op while visiting baby Dream. She's mostly unseen, but she's definitely heard. Like Kris, Khloé's filming skills are impeccable. She has a steady hand and knows to ask Rob questions to get great sound-bites about how much he loves being a dad. These people are machines.
Once Chyna is out of surgery, Kourtney and Scott visit the baby. Kourtney just now realizes that Dream is the first Kardashian of the new generation, and she's shook. Kim and Kanye West FaceTime the family. Like everyone else, Kim thinks she looks just like Rob.
To wrap up the episode, Scott reminisces about all of his family members being born on this floor in the hospital. The first flashback shown, though, is Kylie Jenner's birth. Bundle up, it's shady in Calabasas.