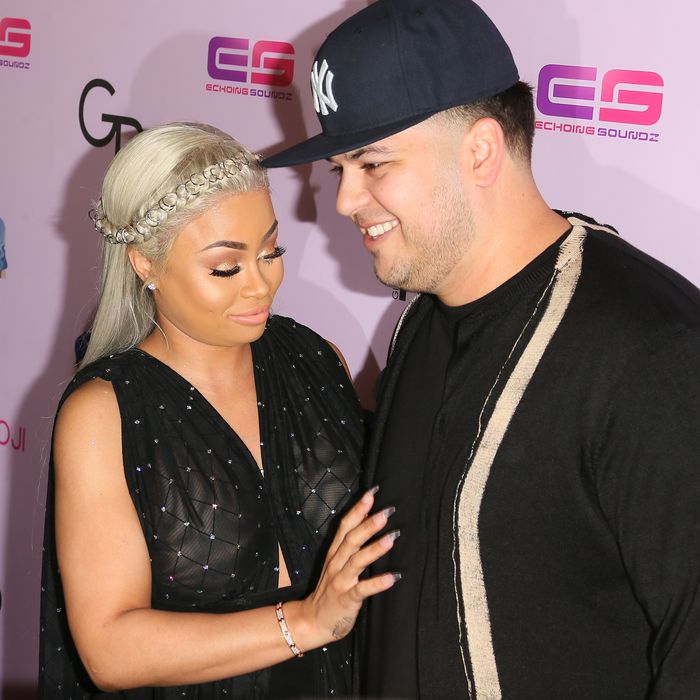 Blac Chyna and Rob Kardashian.
Photo: JB Lacroix/WireImage/Getty
Blac Chyna's Instagram account was allegedly hacked this weekend by someone who decided to post a bunch of screenshots of flirty texts with teen water mogul Jaden Smith and Young Thug, as well as some disparaging texts she sent about Rob Kardashian. Later, Rob shared his heartbreak on social media, lamenting that had Blac Chyna left him and taken their baby (and a freezer full of Eggos) with her.
But by Monday, Rob seemed to regret airing his frustrations on social media, and posted an emotional apology to Instagram. In the post, which featured a sweet red-carpet pic of the on-and-off-and-on-and-off-etc.-it-never-ends couple in happier days, Rob lamented that he knows he's embarrassed himself and his family, and said that he is seeking help.
"This weekend I was in an emotional bad place and did some things that embarrassed myself and my family. I apologize and I'm seeking help to deal with my flaws/issues. Please pray for me and I'm sorry @blacchyna. You are a great mother to our child and I love you."