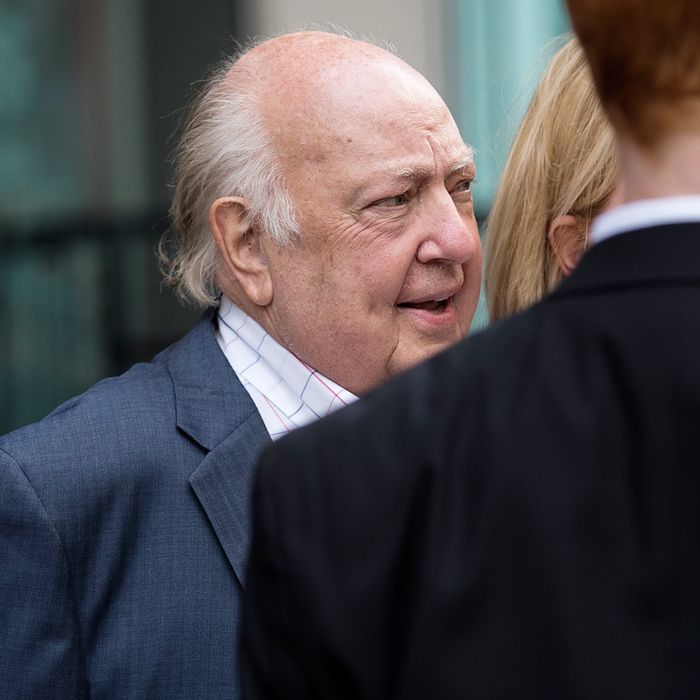 Roger Ailes would like an apology.
Photo: Drew Angerer/Getty Images
Former Fox News chief Roger Ailes, who has been accused of sexual harassment by multiple women, called the New York Daily News Monday to ask for an apology over a headline, the paper reports. The phrase he took issue with, which the News confirmed appeared in the column's print headline (but not in the online version), was "Gropey Old Men."
"I was hoping you would be a gentleman and apologize," Ailes reportedly said after a lawyer confirmed it was him on the phone. The column addressed new allegations of sexual harassment by Ailes, which were the subject of a lawsuit filed by Fox 5 reporter Lidia Curanaj against Fox News. In the suit, Curanaj alleges Ailes asked her to stand up and turn around so he could "see [her] from behind," asked a man she'd dated whether she "put out," and declined to hire her because "she would not submit to him sexually."
When asked why, out of all the negative coverage he's received, he chose to personally address the News', Ailes said it was because he was "finally annoyed" by the headline. His attorney, Mark Mukasey, elaborated in a statement:
Roger Ailes called the paper because he wanted to make clear that he vehemently denies the ludicrous allegations that were lodged against him by Ms. Curanaj. Her complaint is a laughable stunt. And Roger should not be compared to anybody else. He's an icon, a legend, a visionary — and he'll be back.