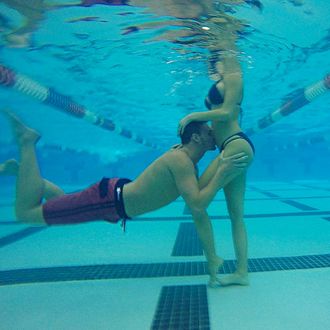 Ryan Lochte and Kayla Rae Reid.
Photo: Courtesy of Instagram/ryanlochte
Ryan Lochte, a grown man who caused an international incident after drunkenly vandalizing a gas-station bathroom and fabricating his own robbery, is ready to be a father. Earlier today, the swimmer shared an Instagram of himself underwater kissing girlfriend Kayla Rae Reid [face not pictured] on her stomach, with the caption "best news I've ever received #CLOUD9#excited #family #love #2017." Congra-jeah-lations!