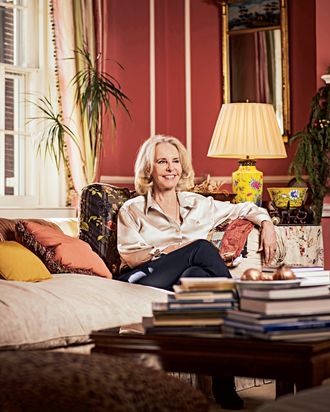 Sally Quinn.
Photo: Stephen Voss
Every time a new administration sweeps into Washington, Sally Quinn writes an open letter to the incoming regime, offering tips on making nice with the locals. This January will be no exception, though Quinn says it will require more adaptation than usual, given that only 4 percent of D.C. voters pulled the lever for the president-elect. Things could easily get — high-pitched voice — awkward.
Quinn is the tart former Washington Post "Styles" writer, third wife of Ben Bradlee, co-founder of the religion website OnFaith, last of the great Washington hostesses, model for the Sally of When Harry Met, and cameo-maker in numerous D.C.-folklore morsels (it was in her kitchen that Nora Ephron dumped a bottle of wine over the head of her philandering then-husband Carl Bernstein). She is Washington, or Old Washington anyway. Her redbrick house, 18 rooms that once belonged to Abraham Lincoln's son Robert, is the archetypal Georgetown salon. The intimate dining room, with hand-painted chinoiserie wallpaper, overlooks N Street. A powder room off the library contains a framed copy of H. R. Haldeman's handwritten notes, dictated by Richard Nixon, including the injunction "Never invite Sally Quinn." "I had it framed like you'd frame the Constitution," Quinn said.
It was the week before Christmas, and Quinn, still energetic at 75, sat on a sofa in her grand drawing room (two fireplaces, three seating areas, one gigantic Christmas tree) in a decidedly informal black yoga-y­getup. She was giving a short history of the decline of Washington Establishment socializing, which she has long blamed for much of the entrenched partisan hostility that now dominates American politics. Traditionally, she said, the occupant of the White House set the tone for entertaining in the capital: from JFK and Jackie's Camelot, with its patrician glamour, to dour Nixon's severe formality (U-shaped tables and guards sporting the epaulet-heavy style of a Moldovan principality). Back then, she said, there was an easy, bipartisan commingling of "permanent Washington" and elected officeholders.
Even with an extreme figure like Strom Thurmond? Quinn let out a peal of laughter. "He was a well-known womanizer," she said, retelling a war story about the antediluvian segregationist senator coming up behind her and her mother at a dinner party and — here Quinn held both hands out like she was palming two basketballs — grabbing them both at once. "Of course we just laughed — 'Oh, that's old Strom' — but it gives you an idea how much times have changed."
Quinn dates the beginning of the end of cross-aisle comity to the Reagan era, when the First Couple and their fellow West Coasters went back to California a lot, and congressmen increasingly spent weekends in their home districts. Then the Clinton era, with the Republican impeachment proceedings, ended bipartisanship for good. "Best friends stopped speaking to each other forever," Quinn said.
The George W. Bush administration didn't do much for Capitol nightlife, and "I think the Obamas," Quinn said, "have been the least social of any of the people I've ever seen in the White House. I don't know a single person whose house they've been to for a social event that wasn't their own friends." Now, the large dinner party as D.C. social ritual has been replaced by the benefit gala. Quinn couldn't name a new host or hostess (of parties for the sake of parties) who'd come to prominence in recent years.
All of which makes it very hard to predict what a Trumpified D.C. will look like. Quinn invites only people she knows to her dinner parties, which rules out most of the Trump administration, but she has heard good things about General James "Mad Dog" Mattis, the secretary of Defense nominee. There are also the non-freakish Cabinet appointees — the Wilbur Rosses and Rex Tillersons, say — whom Quinn could see taking part in Washington social life.
Theoretically, Quinn could find herself neighbors with Jared and Ivanka, who are reportedly considering moving to Georgetown. There are only so many big houses on the market, and one of them is directly across the street from Quinn.
As for the First Couple, Trump has never been a dinner-party guy. Washingtonians do tend to want to socialize with the president, regardless of party, but "I'm not sure that's true this time," says Quinn, who met Trump several times when her stepson worked for the developer in the early '90s. If the Trumps do move to Washington — Melania has said she'll remain in New York for at least the first six months, and it's easy to imagine her husband ruling the country partly from Manhattan — there may be an unprecedented level of garishness on the Potomac. "I wouldn't be surprised if there wasn't a little gold leaf spread around the White House," Quinn said. She added that Washington is already dividing into social Never Trump–ers and those who see the White House as "the people's house" and will accept a Trump invitation because "it's my house, too." Of course, that's what they say now. "I just don't know who will cave and who won't," Quinn said, chuckling. "There's an awful lot of fear and loathing right now. But power is power."
It's also an open question who will attend the annual events, typically premised on the president's attendance, that form Washington's secular liturgy, such as the Kennedy Center Honors. For the White House Correspondents' Dinner, "how many news organizations are going to take a table?" Quinn wondered aloud. "Will a lot of the journalists really want to go? Will a lot of the celebrities want to show up?"
Quinn has never stopped hosting her own small seated dinner parties, but they skew more Democratic than ever: "I always invite Republicans. They don't usually show up." More often, her recent parties aren't political at all. She has hosted parties for Deepak Chopra, scholar Karen Armstrong, and pastor T. D. Jakes, where the talk isn't so small. At one such gathering, when she introduced then–Post publisher Don Graham to a cluster including scholar Elaine Pagels, the group "looked at Don and said, 'We were just talking about the last days of Christ.' " As Quinn walked the literary critic Leon Wieseltier to the door, he said, "Sally, this is the greatest party, but I've got to tell you it's the weirdest Georgetown party I've been to in my life."
The following week, Quinn said, she would host a winter-solstice party to celebrate the passing of the darkest day of the year. "Everyone's been really down after this election, so I wasn't even going to have one, and then I decided people need to be cheered up. The idea is: Out of the darkness comes the light."
*This article appears in the December 26, 2016, issue of New York Magazine.