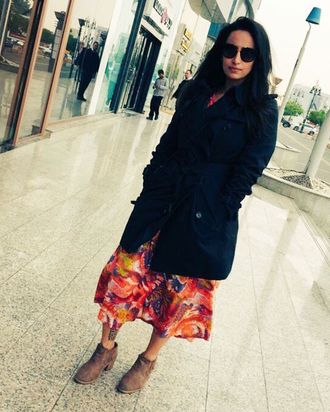 This image reportedly got a woman arrested in Saudi Arabia.
Photo: dontcarebut/Twitter
A woman in Saudi Arabia was arrested and imprisoned for posting a picture of herself on Twitter without a hijab, in violation of the country's moral code, a spokesperson for the police in the capital of Riyadh said Monday. The woman, who is in her mid-20s, is seen in the picture in a colorful dress, black coat, and ankle boots, with her hair down.
The Washington Post reports that the picture was posted when the woman went out for breakfast in November. Her tweet then circulated throughout the country, prompting death threats and calls for her imprisonment or execution, as women in Saudi Arabia are expected to wear loose-fitting clothes and headscarves. AFP reports that in addition to posting the picture, police spokesperson Fawaz al-Maiman accused the woman of "speaking openly about prohibited relations" with unrelated men.
"Riyadh police stress that the action of this woman violates the laws applied in this country," Maiman said.
The woman hasn't formally been named by police, but as the Post reports, many websites have identified her as Malak al-Shehri. She reportedly tweeted that she was going to breakfast without an abaya or headscarf and asked her followers to tweet a picture to her account @AngelQShe, which has since been deleted, according to the International Business Times.