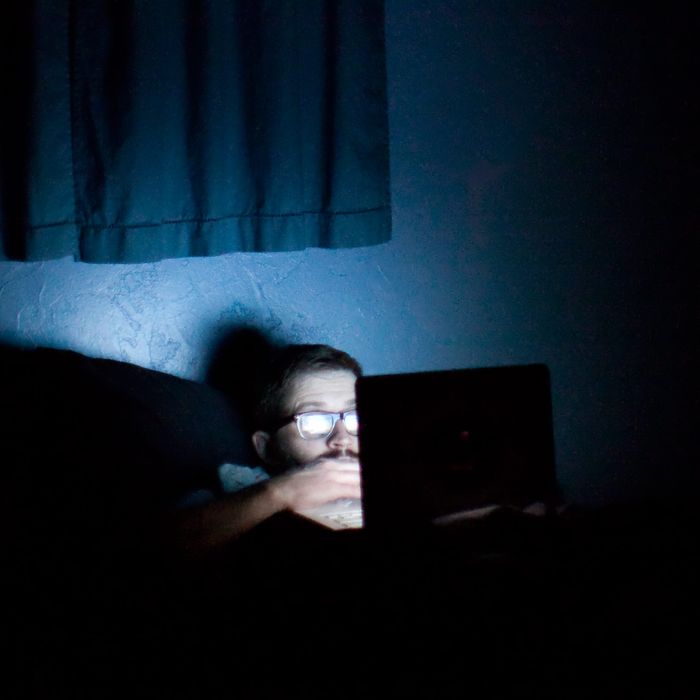 Photo: Joel Addams/Getty Images/Aurora Creative
It isn't just Anthony Weiner: There is a big, noisy conversation going on about sex and porn addiction, as a couple quick Google searches will readily reveal. Naturally, that conversation has brought with it a growing market for counselors and even clinics specifically oriented toward treating these problems.
The problem is, many sex researchers don't think sex and porn addiction are useful, empirically backed frameworks for understanding certain compulsive forms of sexual behavior. This has led to a rather fierce debate in some quarters, albeit one the average news consumer is probably unaware of.
Last week, the skeptics won an important victory: The American Association of Sexuality Educators, Counselors, and Therapists, which is the main professional body for those professions, has come out with a position statement arguing that there isn't sufficient scientific evidence to support the concepts of porn and sex addiction. "When contentious topics and cultural conflicts impede sexual education and health care," begins the statement, which was sent out to the organization's members last week, "AASECT may publish position statements to clarify standards to protect consumer sexual health and sexual rights."
It continues:
AASECT recognizes that people may experience significant physical, psychological, spiritual and sexual health consequences related to their sexual urges, thoughts or behaviors. AASECT recommends that its members utilize models that do not unduly pathologize consensual sexual problems. AASECT 1) does not find sufficient empirical evidence to support the classification of sex addiction or porn addiction as a mental health disorder, and 2) does not find the sexual addiction training and treatment methods and educational pedagogies to be adequately informed by accurate human sexuality knowledge. Therefore, it is the position of AASECT that linking problems related to sexual urges, thoughts or behaviors to a porn/sexual addiction process cannot be advanced by AASECT as a standard of practice for sexuality education delivery, counseling or therapy.

AASECT advocates for a collaborative movement to establish standards of care supported by science, public health consensus and the rigorous protection of sexual rights for consumers seeking treatment for problems related to consensual sexual urges, thoughts or behaviors.
David Ley, an Albuquerque clinical psychologist whose whose book The Myth of Sex Addiction likely gives you a sense of his views on the subject, and who reviewed the statement for AASECT prior to its publication, described this as "kind of a big deal." "It hits the credibility of sex-addiction therapists kind of between the legs frankly," he said in an email. "These are clinicians who claim to [work on] sexuality issues, and the main body of sex therapist says that they are not demonstrating an adequate understanding of sexuality itself."
Back in August, after the latest Weiner scandal broke, Ley laid out in an email why, even in such an extreme case, describing the disgraced former representative as a "sex addict" isn't a helpful approach:
Ley's basic argument is that that "sex addiction" isn't well-defined, is quite scientifically controversial, and in recent decades has been increasingly used to explain a broad range of bad behavior on the part of (mostly) men. But in a sense, this robs men of their agency, of the possibility that they can control their compulsions and put them in a broader, more meaningful psychological context. "Sex addiction," in this view, is a lazy and easy way out. […] Someone like Weiner, Ley explained, could obviously "benefit from learning to be more mindful, conscious, and less impulsive in his sexual behaviors. But those are issues resolved by helping him, and others, to become more mindful, conscious, and intentional in his life as a whole." When you single out sex addiction as the source of the problem rather than taking this more holistic approach, Ley argued, it "ignores the fact that sex is always a complex, overdetermined behavior and that sex is often used by men to cope with negative feelings. Is Weiner getting the help he needs in his career, personal life, and relationship? Does he have other ways to try to make himself feel attractive and valued? Those are the questions that this latest incident raises. Sadly, calling him a sex addict ignores all of these much more important concerns."
Weiner might not be the most sympathetic figure, but if Ley and the AASECT are correct, many sex-and porn-addiction clinics and clinicians are taking a lot of money from vulnerable people and their families, despite not offering a science-based approach.
Unfortunately, this fits in neatly with a longstanding problem in the broader world of addiction-treatment services: As journalists like Maia Szalavitz have pointed out, this is an under-regulated area of treatment that is rife with pseudoscience and abuse. To take just one example, Science of Us, drawing on reporting by Sarah Beller, noted in June that one court-ordered addiction-treatment regime draws heavily from nonsensical Scientology ideas. If AASECT's statement is any indication, the world of sex-addiction "treatment" isn't all that much better.