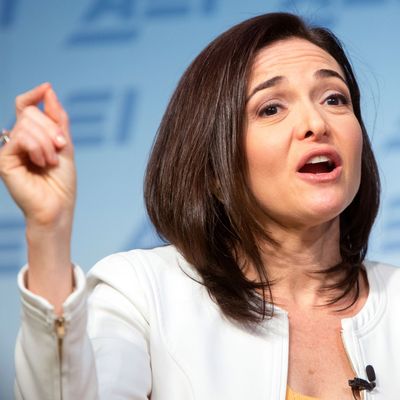 Sheryl Sandberg doesn't want young girls to second-guess themselves.
Photo: Getty Images
After Donald Trump became president-elect of the United States, many parents wondered how to talk to their children (and especially their daughters) about the election's aftermath. Facebook COO Sheryl Sandberg, herself a mother of two, spoke to National Geographic for its January issue, and she told the magazine that what children — particularly young girls — need most right now is to believe in their own potential.
"Raise your hand if you're a girl in class," she said. "Run for class president. If you're interested in it, be a leader. Don't let the world tell you girls can't lead." She added that imposing gender roles on children pigeonholes them from an early age: "From the moment they're born, boys and girls are treated according to stereotypes. We tell little boys, 'Don't cry like a girl.' Not helpful."
Gloria Steinem, who was interviewed separately for the issue, agreed with Sandberg. "It's important for girls not to internalize a sense of passivity or inferiority or second-classness, and for boys not to internalize a sense of having to be stronger or superior or in control," she pointed out. "What helps the most is for boys to be raised to raise children." Hey, if we don't achieve parity this generation, maybe there's hope for the next.