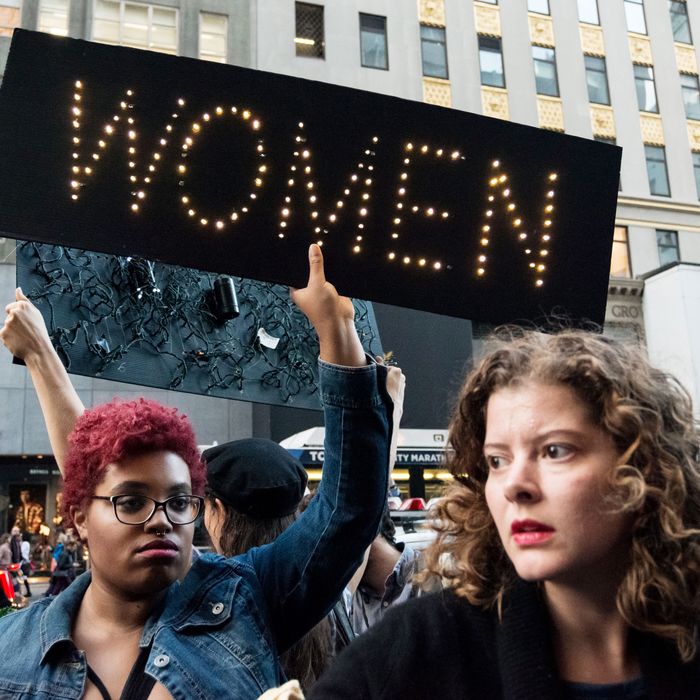 Women protest outside Trump Tower in New York.
Photo: Pacific Press/LightRocket via Getty Images
For proof we need more women in politics, look no further than Ohio, where lawmakers just passed one of the most restrictive abortion bills in the country without considering why a woman would want an abortion in the first place. Women are still underrepresented at every level of politics in the U.S., but the fact that a woman just lost the race for the highest elected office in the nation seems to be galvanizing women into action, rather than deterring them.
According to Time, since the election, more than 4,500 women have registered to run for office through the organization She Should Run — a nonprofit that seeks to prepare women to run for elected office. Women can nominate themselves or their friends to run for office through the organization's website, after which they're guided to an online incubator that gives them steps they can take to prepare. They're also invited to join a Facebook group of like-minded women: a built-in support group.
Erin Loos Cutraro, She Should Run's co-founder and CEO, told Time she'd expected a few hundred new registrants at most, but she understands why Donald Trump's election spurred women to action. "They['re] … part of a fabric of voices that are wanting to be heard and wanting to make the case for smarter policy solutions," she said.
There are a variety of reasons women don't run for office — sexism, funding, and unwanted cultural perceptions of women in power, to name a few. But organizations like She Should Run are hoping to change that by giving women concrete steps to take and constant motivation to follow through. As Cutraro told the Cut in November, "The very act of planting a seed with a woman or girl … and encouraging her to see elected office as a place where she can make a difference is incredibly important."