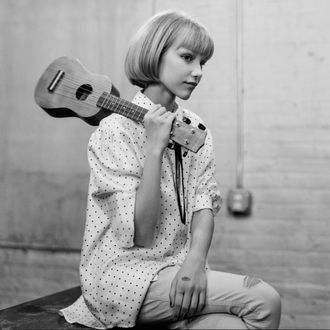 She's only 12 years old, but singer Grace VanderWaal has already made a household name for herself as the folk-inspired, ukelele-playing near-teenager who won America's Got Talent last September (she was the youngest winner of the NBC series in ten years, and only the second female winner in its history). On the eve of the début of her first EP, Perfectly Imperfect, the Cut talked to the middle-schooler about discovering the ukelele, making time for being a normal kid, and what we can look forward to with her new music.
Growing up Kansas City, Missouri, VanderWaal was introduced to music when her mother signed her up for piano lessons at age 10. "I didn't like playing piano because it requires so much patience. But then a family friend who played the ukulele stayed with us and I liked playing around with it so much that I went and bought my own." At the time, VanderWaal was just playing the ukelele for fun, but things quickly changed when she went to open-mic nights at the urging of her family.
Miu Miu Sweater, price upon request at Miu Miu, Rebecca Taylor Jeans, $295 at Rebecca Taylor.
"I'm not the kind of person who's like, 'I've always wanted to be a professional ukeleleist.' It was just something that I enjoyed and picked up on quickly," VanderWaal says. "Even still to this day, I try not to take it too seriously because then I won't want to do it anymore."
VanderWaal perfected her ukulele-playing skills by watching YouTube videos, and soon after started writing her own songs. Earlier this year, her mother signed her up for the open-call auditions of America's Got Talent. "At that time I was trying to pursue a singing career, so I was happy for audition experience. And obviously it went really well and I thought, oh my gosh, maybe I'm going to get on the show! And the rest is history."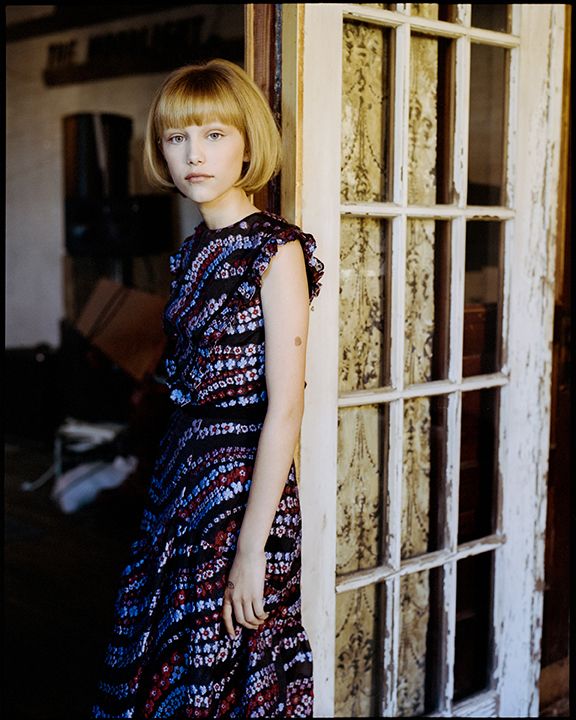 Erdem top and skirt, price upon request at Erdem.
History as she refers to it is quite monumental — VanderWaal performed her own song for the audition, I Don't Know My Name, that has since become a hit, with about 46 million views on YouTube, and Simon Cowell, known for his more-than-blunt responses, dubbed her the next Taylor Swift. The songs she wrote and performed on America's Got Talent were not only catchy but emotional and unique to her own sound, a mix of raw and folk, inspired by pop artists she loves like Twenty One Pilots and Jason Mraz. I ask her about what she was thinking onstage while she sang in front of the judges for the very first time, to which she laughs, saying, "I honestly can't remember that moment — it's all a blur. It feels like I was just watching the episode and not in it. But when I was onstage or in the back room I got really nervous. And I kept telling myself that I didn't care what the judges said, it's just an audition — but I was still so nervous!"
As the youngest person to win America's Got Talent in ten years, Grace has accumulated a massive fan base, and not just with teens — her music transcends age and genres. With a 1.4 million fans on Instagram and growing, her influence is steadily climbing, though her parents still run her social media accounts. "I try not to think about the fame part — I don't want to psych myself out too much. But it is pretty amazing."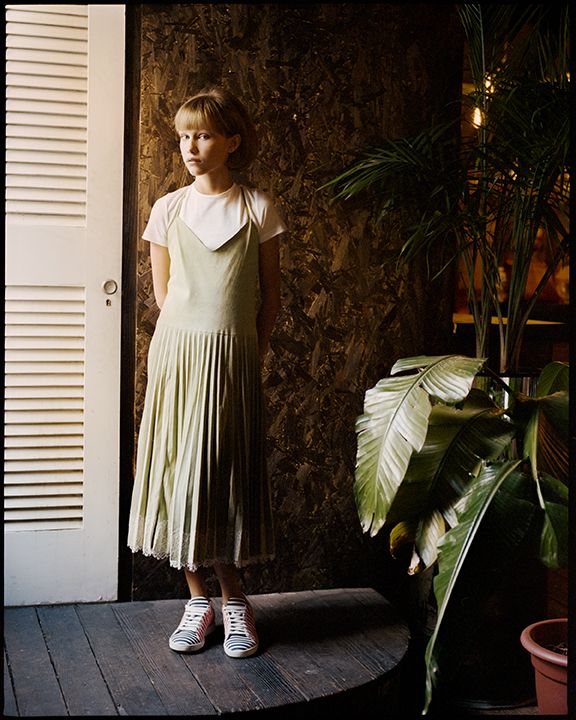 Gap T-shirt, $24 at Gap; Red Valentino dress, price upon request at Red Valentino; Thom Browne sneakers, price upon request at Thom Browne.
Even her fashion presence on the show was something you couldn't ignore. For someone so young, viewers quickly noticed that VanderWaal really took pride in how she presented herself and had her own sense of identity when it came to what she wore onstage. "I've always loved fashion. I remember when I used to go to school everyday in a skirt and tights and everyone was wearing leggings and an Under Armour shirt and I was judged. Do I regret it? Absolutely not. I still dress that way today."
Having signed with Columbia Records and Simon Cowell's Syco Music in October, VanderWaal's writing sessions for the EP started immediately after she won America's Got Talent. "The inspiration for my songs comes to me at different times. I don't have a 'right' way of doing it. Writing personally sometimes is hard to explain because each song is so different — I don't usually have the same starting point for each song; sometimes I'll write the tune before I get on the ukelele, other times it's ukelele before words. And each song on my EP delivers a certain message. It was really a lot of messing around with sounds, and if it sounded bad I tossed it, and if it sounded good I kept it. There's no theme, it's just really songs that I personally like." The EP takes you through five melodies, some ukelele strong, others, like "Clay," softer with piano and emotional lyrics, and builds up to really show off her vocals in different ranges.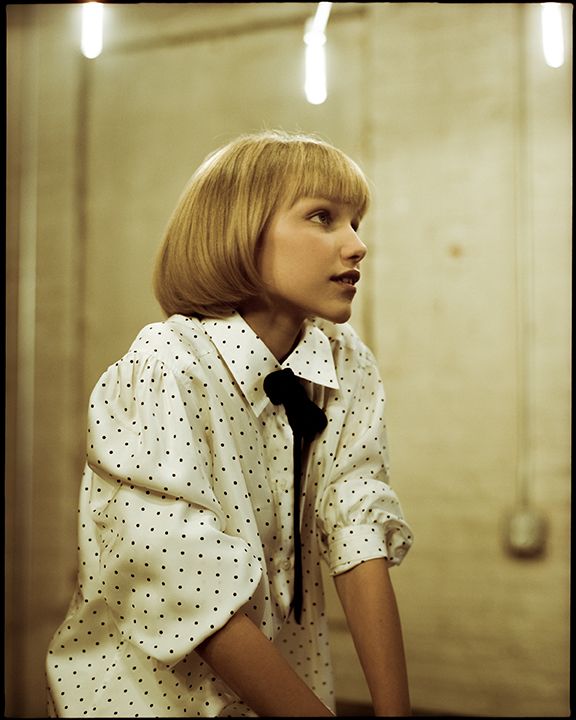 Marc Jacobs blouse, price upon request at Marc Jacobs.
With so much buildup to her début EP, we talk about the pressure she's under as a young artist to perform. Her response is both classy and mature, the definition of Grace: "There are pros and cons to everything, even the absolute best things in life. Of course there is stress and anxiety that comes with being in the public eye, but there's also some great things like performing, and this is my dream and it's everything to feel support from my fans."
More than anything, Grace says, she wants people to really listen to the music and take it in. "I feel like a lot of people let the music pass them by and dance to it, which is fine, but sometimes people don't even listen to the real meaning behind songs anymore. And I want people to really listen to this music."