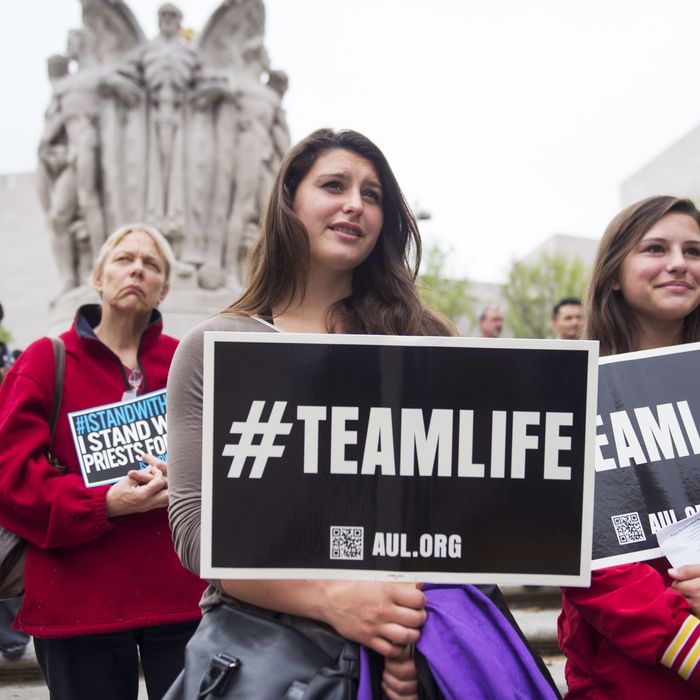 Ohio lawmakers passed a six-week abortion ban.
Photo: SAUL LOEB/AFP/Getty Images
The "heartbeat bill" that Ohio lawmakers passed on Tuesday would prohibit abortion in the state at only six weeks of pregnancy. But because most women don't even know they're pregnant at that stage — and most doctors won't see them until they're further along — the bill basically bans women in the state from accessing abortion at all.
The bill, which doesn't include exceptions for rape or incest, is just one of Ohio's challenges to abortion rights, as lawmakers are expected to pass a 20-week abortion ban, too. Both may soon be signed into law by Republican Governor John Kasich. Yet, earlier in the year, the Supreme Court refused to overturn rulings that blocked a similar 6-week ban in North Dakota and a 12-week ban in Arkansas. So, unless Donald Trump is successful in his quest to appoint pro-life justices to the Supreme Court, the Ohio bills may also be deemed unconstitutional if they actually become law.
As artist and author Jessica Hische pointed out on Twitter, the bills actively restrict women's rights to make their own reproductive choices, particularly given the timeline of a woman's pregnancy.
Pregnancy technically begins the first day of a woman's last period — before she's even pregnant. Furthermore, many women learn that they are pregnant sometime between weeks four and seven. A woman's first prenatal visit usually isn't until around week eight, because of the high risk of miscarriage in the first trimester. Fetal anomalies, such as those caused by the Zika virus, are usually only detected starting around week 20.
The excessively restrictive six-week ban would therefore block a woman's access to abortion before she even had the opportunity to discover she was pregnant or talk to her doctor about her options. We can only hope Governor Kasich doesn't sign these bills into law — or if he does, that the Supreme Court will once again protect women's reproductive rights.