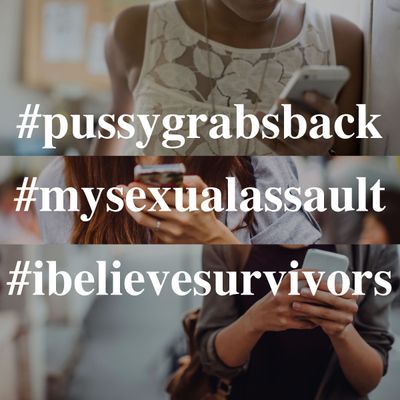 There are many reasons women are silent about sexual assault: Telling the world you've been violated means having to relive that violation, and the stress and humiliation that come along with it. It means mustering up faith that your words will be met with compassion, even though history shows us time and time again that victims are often blamed, not believed. And for many women, it means finally calling that "bad thing that happened" what it actually was — rape. Not an awful, confusing hookup when you didn't know your limit of tequila shots and Natty Light. Not an embarrassing night you wish we could take back. Rape.
It's easier not to tell these stories — less messy. It's also what makes the collective outpouring that took place in 2016 so remarkable. Whether emboldened by the possibility of the first female president, inspired by the dozens of women who had the guts to take on Bill Cosby, angered by Donald Trump's sexist comments, or encouraged by prior social campaigns around stigmatized issues like #shoutyourabortion, women broke the silence around sexual assault with tweets and posts and shares. If we had waited for the cold bucket of water that was poured over our heads in November, it may have never happened. And that would be a shame, because silence reinforces the myth that women are alone — that being groped or fucked without our consent, and all the terrible gray areas in between, is an uncommon experience. It's not: Roughly one in five American women will be raped in her lifetime, and almost a quarter say they've been touched sexually in public by a stranger.
The first rumblings of what was to come began in March, when musician and former Canadian radio host Jian Ghomeshi was acquitted on sexual-assault charges. The three women who testified against him described being bitten, punched, and choked against their will — actions Ghomeshi claimed to be consensual during what he described as Fifty Shades–style sex. The case was heard without a jury, and ultimately, the judge accused one of the women of telling "the half-truth" — an accusation that promoted protesters to chant "We believe survivors" outside the courthouse and broadcast the protest on Periscope. The phrase quickly became a hashtag, with people showing their support with #Ibelievesurvivors. Some women shared their own experiences with assault: "It's no wonder why so many women don't come forward — including me!" one user tweeted. Another posted, "When he started molesting me, he stopped being as mean & violent. I felt confused, ashamed & terrified to speak up." On Instagram, writer Shantelle Bisson wrote, in part: "I always wondered when would the day come that I would speak up about my own abuse? When would an opportunity present itself that I could remain silent no longer? … Then today happened."
The same week as Ghomeshi's acquittal, author Jessica Knoll revealed that a scene in her best-selling novel Luckiest Girl Alive depicting the gang rape of a teenage girl was inspired by events in her own life. Her powerful essay, published by Lenny Letter, was shared across social platforms with #WhatIKnow and featured in the New York Times, among other major media outlets (including People, BuzzFeed, and the Guardian). "For 17 years I was too ashamed to share this. Today I am not ashamed. Proud to tell #WhatIKnow," Knoll tweeted." The essay was shared by celebrities with large followings, including Reese Witherspoon (who is producing a film based on Knoll's novel) and Lenny creator Lena Dunham. It also received a strong reaction from women showing support for Knoll, as well as survivors sharing their own feelings: "In tears; the difficulty grasping anger is something I'm still struggling with. But this is #WhatIKnow too"; "#whatiknow 40 yrs ago, an eerily similar story. When will it stop? When will WE talk?"; "I know. Thank you so much @JessMKnoll, this hits so close to home."
After all this, a watershed moment came in June, when BuzzFeed published a letter from a woman known as Emily Doe to her rapist, Brock Turner. "You don't know me, but you've been inside of me, and that's why we're here today," she began, addressing Turner directly. For 7,200 words, Doe ripped into the defense's claim that Turner was only guilty of drinking too much — that rape culture and alcohol were to blame, not the man who stuck his fingers in an unconscious woman while she lay on the ground, her underwear crumpled next to her.
The letter became the right hook millions of women have wanted to land, and each share on Facebook and Twitter was a swing: In just four days, the piece received more than 11 million views. With each click, Turner was increasingly pegged as the poster boy for while male privilege — a role intensified by the media's treatment of him, noting his status as a college athlete not just in articles, but in headlines; by citing his swim times in one breath and how he raped Doe in another. And when a judge handed him a six-month jail sentence instead of the six years requested by the prosecution, men and women (but mostly women) showed their frustration by tweeting #ThingsLongerThanBrockTurnersRapeSentence with everything from "my dog's morning pee" to "Bruce Willis's hair."
It didn't matter that Turner is far from the only college student to sexually assault someone, or that his sentence — however short — was still significant (only 3 percent of rapists ever spend a day in prison, according to RAINN's analysis of Justice Department data). What mattered was that a nameless, faceless woman refused to be voiceless, and the power she regained by telling her truth resonated with women tired of living with a secret they never asked to know.
This widespread wokeness, coupled with public disgust for Trump's derogatory comments about women on the campaign trail (see: making fun of Carly Fiorina's face, stating that Megyn Kelly had "blood coming out of her wherever" because he didn't like her questioning in a GOP debate, or suggesting that if a woman is sexually harassed at work she should leave the company), was kindle for a fire. The match came on October 7 when an Access Hollywood tape of Trump bragging about grabbing women "by the pussy" was released. His words were inescapable (although apparently not enough to cost him the presidency): "It's like a magnet. Just kiss. I don't even wait. And when you're a star, they let you do it. You can do anything … Grab 'em by the pussy. You can do anything."
That same day, performer Amanda Duarte and Feminist Fight Club author Jessica Bennett reclaimed the word pussy by tweeting #pussygrabsback with an image they'd created with help from the artist Stella Marrs. The hashtag and fangs-out cat graphic turned into a battle cry for women promising to take their revenge at the polls — and they did. What we know now is that if only women had voted, Hillary Clinton would have won: Exit polls showed that 54 percent of female voters cast their ballots for Clinton, compared to just 41 percent of men. We also know that it wasn't enough. (A small consolation: You can still buy that T-shirt and help women).
Author Kelly Oxford had another idea: In response to the video, she tweeted, "Women: tweet me your first assaults. They aren't just stats. I'll go first: Old man on a city bus grabs my 'pussy' and smiles at me. I am 12." That was at 7:48 p.m. By 7:59 p.m., she said she was receiving two sexual-assault stories per second, using #notokay. As Trump attempted to shrug off the video by calling it "locker-room talk," the "not okay" hashtag began trending in major cities like Los Angeles and Washington, D.C. Within 24 hours, Oxford said her tweet asking women to share their stories had just under 10 million impressions, with one million women posting their personal experiences with sexual assault.
If the deluge of women coming forward proved anything, it is that we have had it — had it with men trying to shrug away sexual assault, had it with a system that punishes rapists based on their status instead of their crime, and had it with a society that often trusts the words of men over the words (and sometimes cuts and bruises) of women. We have had it with the fact that when a woman like Doe takes a man like Turner to court, her entire sexual history is on trial. How much she drank is on trial. What she wore, and how she wore it is on trial. And we have had it with the misguided conversation around sexual assault — that we tell girls to travel in pairs, to not stay out too late or drink too much, instead of saying to boys, Don't rape. Don't stick your fingers or your dicks into an un-consenting person. Don't touch someone who does not want to be touched by you. Don't stalk. Don't threaten. Don't post private images or videos of someone else online. Don't coerce someone into having sex with you. Don't.
Being fed up isn't enough though, and it won't be going forward. Trump, and the perverse attitude toward women that he represents, has been validated by the election. His administration will try to distract us from this fact by pointing to the women among his cabinet picks, including Elaine Chao, Nikki Haley, Betsy DeVos, and Linda McMahon, as proof that he respects women. Don't buy it. Having women in leadership positions is important, but it does not make up for policy. As the New York Times' Susan Chira points out, Trump's cabinet is "shaping up to be one of the most hostile in recent memory to issues affecting women."
It's true that Republicans and Democrats passed a bipartisan bill earlier this year to protect sexual-assault victims — and that's a bright spot, of which there should be more. Logically, there should be nothing partisan about protecting people from sexual violence. But the GOP has blocked numerous other attempts to help survivors, including putting the breaks on a bill to protect victims of child sex abuse, as well as a bill to protect military members who have been assaulted. The outlook only gets more concerning when you consider that three of Trump's cabinet selections — Jeff Price (attorney general), Tom Price (Health and Human Services secretary), and Mike Pompeo (C.I.A. director) — voted against the reauthorization of the Violence Against Women Act three years ago because it included protections for LGBTQ victims. Or that Trump himself and members of his administration, e.g., Steve Bannon and Andy Puzder, have been accused of violence against women.
That's what we're dealing with. So if 2016 was the year of sharing that assault happens, and we know it because we've experienced it or know someone who has, let's make 2017 the year we do something about it. For starters, take care of you: If you or someone you know has experienced assault and you want confidential support, call the Sexual Assault Hotline at 800-656-HOPE (4673) or go to online.rainn.org. RAINN also has a guide on how to report assault, should you need it. Next, educate yourself on key pieces of legislation that aim to protect survivors, and contact your representatives to show your support. You can also follow your Congress member on Twitter and Facebook (if you don't know who your representative is, you can find out here) so you're in the know on any upcoming votes. And finally, consider donating to an organization that helps sexual-assault survivors, such as RAINN, which works with local rape crisis centers and runs the national hotline mentioned above, or the Victims Rights Law Center, which provides pro bono legal services. Posting and tweeting about assault breaks down stigma and shows solidarity, which is crucial. But it's money that funds the services for survivors to get counseling and justice so they can move forward. If there is a bare minimum for what women deserve, let's make it at least that.