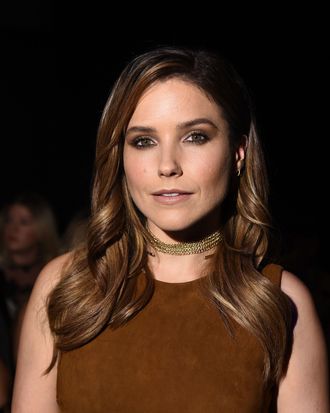 Sophia Bush.
Photo: Michael Loccisano/Getty Images
Actress and activist Sophia Bush could really use a nap. The star of Chicago P.D., which shoots for ten months out of the year, is looking forward to Christmas for that reason. "Everyone keeps asking me what my Christmas plans are, and I'm like, 'napping.' I'm going to sleep, I'm going to have dinner, I'm going to drink good hot toddies, and I'm ready for it." Before that day arrives, she's hosting Birchbox's "12 Days of Prizes and Surprises" sweepstakes, which runs through December 12. A dedicated Birchbox subscriber, she likes how the service "weeds out all the noise for you. You get trial sizes to see if you like something — you're not sitting there going 'I bought this $60 clay mask and I hate it.'" Bush talked to the Cut about cold-weather skin care, sleep masks, and the lure of bread.
How I like to sweat: I have a really good Pilates teacher here in Chicago. For me, it's a lot of movement, it's a lot of body opening. The fight sequences and even just the weapons we carry in these really exaggerated positions for eight or nine hours at a time … it all just throws your body out of whack. I have a couple of pretty gnarly injuries from four years on the show, so I'm always working on a rotator cuff, and a hip injury, and just making sure that I'm properly rehabbing those things.
But it's pretty impossible for me to schedule. Last week I got lucky and I was able to get in the gym twice, but for the three weeks before that, I just did not have time. There's no consistency, which makes staying active difficult. But if you're constantly beating yourself up because you haven't worked out enough or you didn't eat well enough … you don't also need the mental stress added to the stress that's on your physical body.
On failed meal-prepping: I go through phases where when I have a little extra time or if I have a late call one day, I will meal-prep a bit at home so I can bring things to work with me. But I'm also the most easily tempted person when it comes to anything made of bread. I'm like 'hmmm … I brought this salad, but really I just want to eat that calzone, so …' It's kind of the worst.
My biggest wellness struggle is: Being on set is the worst, most dangerous … literally there's junk food everywhere, all the time. It's impossible to avoid. Last night, I'd been eating healthy food that makes me feel good all day and then at nine o'clock, the second meal came — it was pasta and ravioli and all this stuff. I ate three bowls of pasta and I was like 'Wow, I feel horrible. I shouldn't have done that.' But when you've been at work all day and it's veering into all night and you're famished, you're going to eat what's in front of you. Everyone goes, 'you work on TV, you must have the healthiest food on set.' I'm like, 'Oh my God you have no idea.' They have to feed 200 people on the crew, nobody's ordering us gourmet salads. That's not a thing.
What wellness means to me: It means a lot to me, but the reality is that it's not a priority in our job. At the end of the day, the schedule is the priority. It's something that we're all learning to navigate together. But anytime you feel like you've hacked something, you're sharing it with everyone immediately. I found the world's greatest sleep mask — it's kind of like a foam, so it's really light and you don't feel it on your face. That and a pair of earplugs and I can literally sleep anywhere. I bought those sleep masks for every single person on my show. I was like, 'This has changed my life. Everybody gets one.'
On wanting to improve the world and also caring about makeup: I am a person who travels all over the developing world, who looks at strategies to make sure that women and children have access to water, access to schools. These things are of paramount importance to me, but I'm also an individual who wants to feel good about myself, who wants to take care of my skin and not be in pain when I'm outside and it's ten-below in Chicago. I want to know what to put on my face. Very often we forget that our skin is our largest organ.
How wellness has changed for me: When you're 21, you're stupid. I don't care how brilliant you are or where you went to school, you just don't know all that much. As people evolve and get more secure and more settled into who they are … You can trust your intuition. You know what you want to say 'yes' to and what you are willing to sacrifice sleep for and then it's easier to say 'no' to everything else.
When I first started working I was cramming in movies every summer during breaks, and sometimes they weren't even movies I liked that much. I just wanted to go out and work on other things. That is just so not worth my time anymore. I would rather sleep and go to yoga.
On unplugging: I am really trying to prioritize my sleep, which is hard as a lover of television and someone who makes television. I'm on set 14 to 16 hours a day and I come home and I really want to watch the The Fall and Fleabag and Fixer Upper and I sort of have to stop myself.
When I plug my phone in and set my alarm, I'll turn it face down and put it on the floor under my nightstand so I don't see it lighting up. I keep my phone on silent. I'm sure that's very annoying because some people can't get ahold of me as quickly as they need me, but if my phone is always pinging and buzzing and ringing, I'll never stop. So I now just look at it when I need to look at it and try not to let it get the best of me.
On her dogs keeping her sane: I have three dogs and coming home to them is the absolute best. I mean, all of the research that shows what animals do for your blood pressure and your overall well-being … that's science. I'm like 'Guys, there's a reason why I'm a crazy dog lady. Didn't you read the news?'
Animals force you to have a routine, which helps me. They don't care if you're shooting nights or if you have to go to work at four in the morning. They still need a consistent schedule and attention and affection. You have to be responsible for this living thing that you chose to bring into your world. I think that's really healthy.
My ideal night: If I have a night off, I'll call my girlfriends and see if we can't all just get dinner and catch up and eat something delicious and share a good bottle of wine. I mean, really, I think what we're realizing is that everything revolves around food for me.
This interview has been condensed and edited.