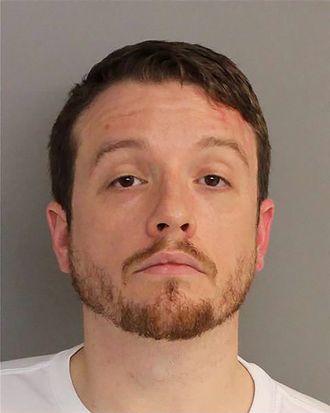 Chris Corley, a South Carolina Republican state representative, was arrested Tuesday and faces charges of domestic violence and pointing and presenting a firearm, The Post and Courier reports.
On Monday night, his wife reported that, after she accused him of cheating, Corley punched her in the face in front of their children, who are 2 and 8 years old. Per The Post and Courier, "she also told deputies Corley only stopped hitting her when he heard the children screaming and saw blood coming from her head." He allegedly went on to retrieve a handgun, point it at his wife, then said he was going to kill himself. When he went into a bedroom, she ran off to her mother's house, located across the street.
Corley, for his part, told deputies that his wife tried to punch him in the face after they argued.
During his time as state representative, Corley is most notable for staunchly defending the Confederate flag. Following the murder of nine black churchgoers at Emanuel African Methodist Episcopal Church in Charleston, South Carolina passed a bill in July 2015 that called for the removal of the Confederate flag from statehouse grounds. During the debate over the bill, Corley said that if the Confederate flag were to be removed, it should be replaced with a white flag of surrender. Then, in December 2015, Corley sent Confederate flag Christmas cards to fellow Republican lawmakers, writing, "May you have a blessed and happy Christmas, and may you take this joyous time as an opportunity to ask for forgiveness of all your sins such as betrayal."
He also firmly supports gun rights, though, according to The Post and Courier, "Corley did vote to support of the state's sweeping domestic violence law that passed in 2015, which included a partial gun ban."

Corley was released from jail on Tuesday after posting a $20,000 bond, and he's currently prohibited from contacting his wife and possessing a gun. If indicted, he will be suspended from the House.