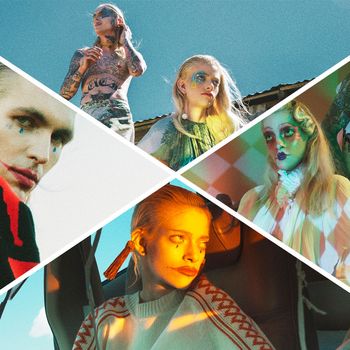 Photo: Phillipa Price, Brian ZIff/Stella McCartney
She's the visual artist behind one of the year's most memorable performances — not to mention videos for Banks, Pharrell, and Alicia Keys — and now surrealist Philippa Price is taking on the world of Stella McCartney in a short film entitled The Uncanny Valley. The fashion film, which officially debuts tomorrow, kicks off a new editorial series called "#StellaBy" in which the brand invites artists and creators to reinterpret recent collections.
Shared exclusively with the Cut, The Uncanny Valley was shot in the Nevada desert at the notorious Clown Motel, an area that served as a nuclear testing site in the 1940s. It's an eerie, visually striking mix of postwar sci-fi noir and McCartney's fresh New Age style, with models Megan Nison and Bradley Soileau (Price's boyfriend) modeling the resort and inaugural men's collections.

Scroll down for more video stills and to watch the delightfully creepy short film.