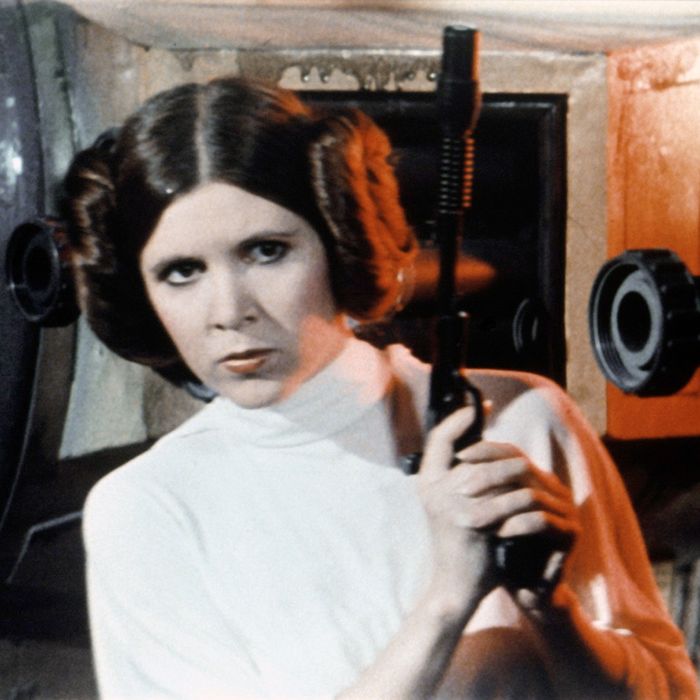 Carrie Fisher on the set of Star Wars: Episode IV - A New Hope.
Photo: Sunset Boulevard/Corbis via Getty Images
"I wish I had known I was a sex symbol," Carrie Fisher said during her excellent press tour for Star Wars: The Force Awakens, in which she returned alongside Harrison Ford to play General Leia Organa. "That's so odd, because I don't look at myself even remotely that way."
Of course, "sex symbol" is a one-dimensional reading of her character, who was a brilliant tactician, a strong rebel leader, and an ace shot with a blaster. And yet, with the launch of George Lucas's Star Wars trilogy in 1977 — and especially thanks to her infamous metal-and-leather bikini in 1983's Return of the Jedi — that's exactly what Fisher became on an international scale.
Princess Leia's status as the catalyst of male sexual awakening has been alluded to countless times in pop culture. On Friends, when Ross confesses to Rachel that he had a sexual fantasy about bikini-clad Leia, Phoebe assures her it's a rite of passage. "Every guy our age loved that," she says. "It's huge. That's the moment when she stopped being a princess and she became, like, a woman." As the Washington Post's Alyssa Rosenberg points out, one of the most glaring signs that Leia is seen as sexy rather than complex is the Philadelphia dad who complained about a scantily clad Leia action figure. And on Tuesday, Steve Martin helpfully reminded us of this fact in a now-deleted tweet when he said that for him as a young man, "she was the most beautiful creature I had ever seen."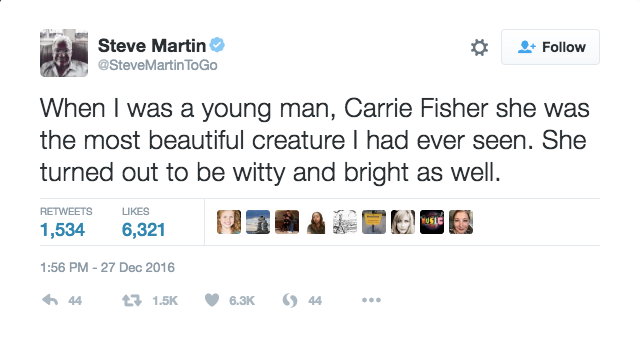 But that characterization of Leia — as a wet dream for prepubescent men — is something Fisher spoke out against her whole career. She addressed Leia's role as a sex object in a 1983 interview with Rolling Stone. "Let's not forget that these movies are basically boys' fantasies," she said. "So the other way they made her more female in this one was to have her take off her clothes." And she was even more explicit in a recent interview with new Star Wars actress Daisy Ridley:
FISHER: Listen! I am not a sex symbol, so that's an opinion of someone. I don't share that.

RIDLEY: I don't think that's the right—

FISHER: Word for it? Well, you should fight for your outfit. Don't be a slave like I was.

RIDLEY: All right, I'll fight.

FISHER: You keep fighting against that slave outfit.
So remember Fisher for her immense talent, her outspoken feminism, and her moving commentary on mental health — not for the way she looked onscreen.