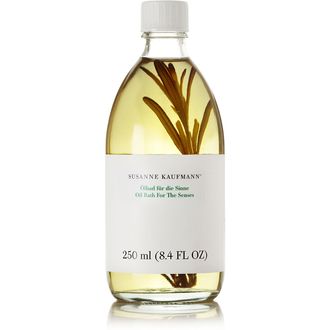 Susanne Kaufman's bath oil will make you swear off showers.
Photo: Susanne Kaufmann
Ronda Rousey may think otherwise, but sometimes I like to be a "do-nothing bitch." On any given Friday or Sunday night, you might find me ignoring my text messages, dirty dishes in my sink, and errant brow hairs in favor of lying very, very still. Like broccoli. My new favorite way to do nothing is to fill up my bathtub with lots of water and pour in irresponsible amounts of Susanne Kaufman's bath oil. It swirls into the hot water and creates a non-hippie, fragrant, herbal, milky emulsion of lavender and ylang ylang that smells like the fanciest natural beauty store in Silverlake. This oil is not like traditional bath-product frippery — there are no bubbles, it doesn't smell like roses, and it's not pink. Rather, this sophisticated bath oil is a step up from the Epson salt baths all the celebrities are raving about these days. I like to submerge myself completely (or, at least, cram three-quarters of myself into my tiny tub) and press "play" on the Frank Ocean album. I generally make it halfway through before I turn pruney. But when I step out of the tub, my sore muscles are magically revived, my skin is soft, and my brain feels like I just woke up from a deliciously refreshing nap. Oprah and I aren't friends — and probably won't ever be — but this oil is what I would bring without hesitation to the "bathing experience" queen if I were ever invited to her house.