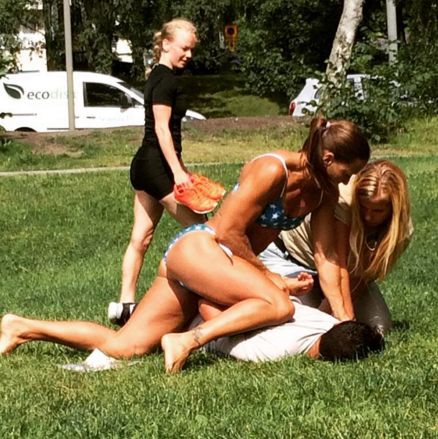 Mikaela Kellner doing her thing.
Photo: Courtesy of Instagram/mikaelakellner
Some people figure out what they're meant to do early in life, but for others the path to finding their true purpose can take a bit longer. That was certainly the case for Swedish police officer Mikaela Kellner, who achieved viral fame this summer after arresting a suspect while wearing a bikini. Now, after 11 years on the force, she's stepping down to focus on her new life as a personal trainer and Instagram fitness star.
In July, Kellner posted a picture of herself pinning down a suspect in a Swedish park while clad in a bikini. She had been sunbathing with friends when the man allegedly stole one of their cell phones, and in the picture's caption, she wrote that it was her "first intervention while wearing a bikini during [her] 11 years as a police officer." Since then, she's amassed more than 27,000 followers on her Instagram page, where she posts pictures and videos of herself working out and eating well.
According to The Telegraph, Kellner has decided to quit her job on the force and take up a new career in fitness. Kellner reportedly told the Swedish newspaper Expressen that the decision was partially made because of a recent restructuring within the country's police force, but also because of her newfound fame. "[Being a police officer] has become a bit like a second identity, and I feel bad about not doing a good job," Kellner said.
It's always inspiring to see someone find their true calling.