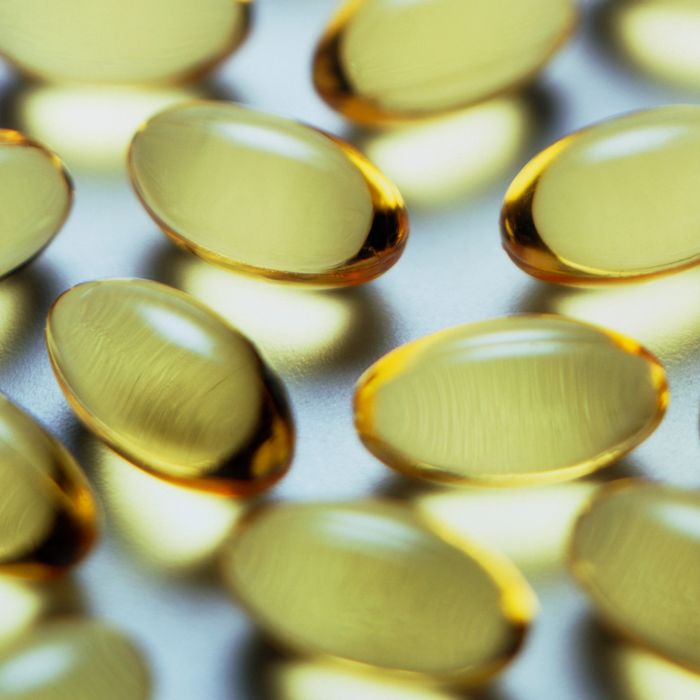 Fish oil.
Photo: GUSTOIMAGES/SCIENCE PHOTO LIBRARY/Getty Images
Women who take fish-oil supplements during their last three months of pregnancy reduce the risk of their child developing asthma or wheezing, a new Danish study has found.
Published in the New England Journal of Medicine, the study randomly assigned fish oil and placebos to more than 700 women in their third trimester of pregnancy. The scientists discovered that fish oil led to a nearly 31 percent reduced risk of a child developing asthma or a persistent wheeze by age three. In total, only 16.9 percent of women given fish oil had children that developed those problems within the first three years of their lives, as compared to 23.7 percent of women in the control group.
Yet, despite the positive outcomes, the scientists involved in the study aren't ready to recommend pregnant women routinely take fish-oil supplements, the New York Times reports. There were no adverse effects detected in mothers or babies involved in the studies, but the fish-oil doses given to the pregnant women were nearly 15 to 20 percent higher than Americans usually consume from food.
Lead study author Dr. Hans Bisgaard, a professor at the University of Copenhagen, suggests that the study be replicated and fish oil be tested earlier in pregnancy (and at different doses) before any recommendations are made. Bisgaard also told the Times that the study's results don't demonstrate whether pregnant women should simply eat more fish to see similar results. Pregnant women are often advised to avoid or limit their consumption of certain fishes (like tuna) due to mercury, while other fishes are typically considered safe.
In an accompanying editorial, Dr. Christopher E. Ramsden of the National Institutes of Health said that the study's findings could help doctors develop different approaches to how fish-oil treatments can be tailored to different women. However, Ramsden also agreed that the findings shouldn't be put into practice just yet, the Times noted.