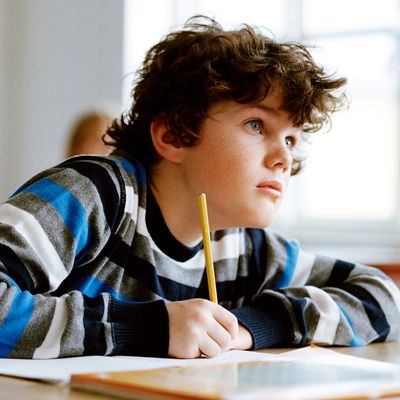 The nature of truth. Theories of fairness. The essence of bullying. These are big, weighty subjects, and apparently 9- and 10-year-olds just eat them up.
As in, according to a Quartz piece by Jenny Anderson, placing grade-schoolers in weekly philosophical discussions has surprising effects on their academic performance. The program in question, called Philosophy for Children, led to improvements in math and reading scores on par with an extra two months of instruction, with bigger gains for disadvantaged kids. The 3quarksdaily blog highlighted it all earlier this week.
The evaluation, put on by the U.K.'s Education Endowment Foundation, ran over the course of 2013, involving about 3,000 kids. The design was a randomized control trial, with 22 schools serving as the control group, and students in 26 others taking the weekly 40 minute philosophy class. It's cheap, too: just $23 per student per year.
Jana Mohr Lone, director of the University of Washington's Center for Philosophy for Children and author of The Philosophical Child, has said that philosophical discussions like these help kids see different perspectives of life, articulate themselves better, and listen more acutely.